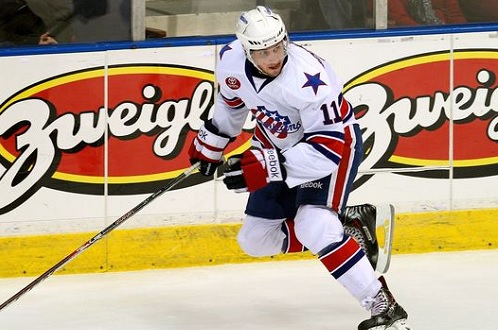 Cody McCormick isn't ready to play again for the Sabres. In the November 22 game against the Washington Capitals, McCormick left the game during the first period after a skate hit him in the side of the head. He underwent concussion protocol this week and isn't expected to return tonight.
Drew Stafford isn't likely going to play tonight either. Stafford did not return for the second period of last night's game against the Montreal Canadiens after suffering a lower body injury during the first period. Although Stafford was feeling somewhat better after the game, he still isn't one hundred percent ready to play.
Josh Gorges is on injured reserve, and Andrej Meszaros will also be out tonight with an unknown injury as of press time.
The Sabres had to make a move.
Enter Tim Schaller. The six-foot-two center signed an entry level contract NHL contract with the Sabres in April 2013 as an undrafted free agent.
Schaller began playing for the Rochester Americans last season and scored 11 goals while picking up seven assists in 72 games. A highlight of last season for Schaller was his hat trick on April 5 that kept the Amerks' playoff hopes alive. In last year's Calder Cup playoffs, Schaller played in all five games and picked up an assist.
In 20 games for Rochester this season, Schaller has six goals (two power play goals and one shorthanded) and nine assists for a total of 15 points. He has a +/- of 3 despite Rochester's 9-10-1 record, while only three Sabres have a positive +/-. Schaller also has 22 penalty minutes this season.
He will take Stafford's place in the lineup, but as a fourth line type player – for now – he'll likely center Patrick Kaleta and Chris Stewart while Marcus Foligno takes Stafford's place on the wing with Nicolas Deslauriers and Cody Hodgson.
Schaller thinks of himself as a gritty player, not a goal scorer, but the numbers he's put up so far this season say differently. It remains to be seen, however, how those numbers will translate to the NHL for Schaller.
Tonight will be Schaller's NHL debut, a call-up he's earned with his season so far.