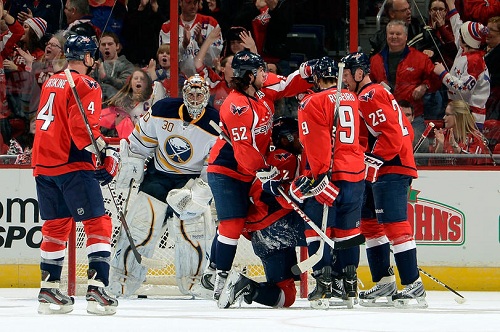 The Buffalo Sabres continued their early season woes as they dropped a 3-2 decision over the Washington Capitals. After the Capitals started the season 0-3-1, Coach Adam Oates finally got his first win as an NHL Head Coach.
The lines for the Sabres were jumbled due to Thomas Vanek being out with an injury. Nathan Gerbe moved up to the top line. Drew Stafford-Tyler Ennis-Steve Ott. Mikhail Grigorenko played with Jochen Hecht and Marcus Foligno. Patrick Kaleta-Matt Ellis-John Scott.
The Sabres would get on the board first as Stafford stole a Washington pass and eventually Tyler Ennis beat goalie Michal Neuvirth backhand and the Sabres led 1-0. Steve Ott and Drew Stafford would assist on the goal. The Capitals would answer later on in the period as Joel Ward put in a Jason Chimera rebound to make it 1-1. Mike Ribeiro also assisted.
In the 2nd period, the Capitals would strike again as John Erksine put a wrist shot on net through traffic and made it 2-1. (Assists by Chimera, Ward) It seems as though at least once a game, goaltender Ryan Miller lets in one goal that he doesn't see. Teams are doing a great job getting traffic in front of Miller.
Alexander Ovechkin would finally get a goal in his 5th game. Alexander Sulzer was penalized for flipping the puck over the glass. Ovechkin took a Mike Green pass and put it past Miller on a One-Timer to make it 3-1. (Ribeiro assist) Marcus Foligno would score about 5 minutes later as he would bang in a Andrej Sekera shot to make it 3-2. Unfortunately, that would be all the goal-scoring for Buffalo as they would lose their 3rd in a row after starting the season 2-0.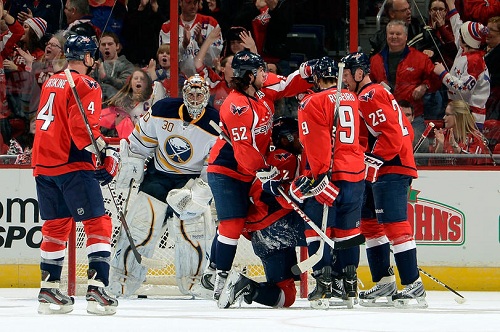 Game notes:
Ryan Miller made 27 saves on 30 shots, while Michal Neuvirth made 22 saves on 24 shots.
Mikhail Grigorenko played 17:10. The Sabres must decide to keep him in Buffalo or send him back to Juniors.
Without Vanek, Pominville and Hodgson were held scoreless.
Foligno and Ennis scored their first goals of the season.