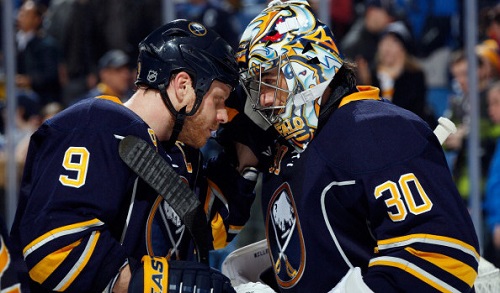 Everybody thought Ryan Miller was going to make his last start in a Buffalo uniform Friday night versus the San Jose Sharks. This was to be his last home start before the Sabres went on their road trip. Friday night would be the last time the fans could cheer on Miller before he would be traded. Things changed quickly Friday as Miller and captain Steve Ott were not in pre-game warm-ups and were late scratches.
Then, the big news came, Miller and Ott were sent to the St. Louis Blues for goaltender Jaroslav Halak, forward Chris Stewart, prospect William Carrier, a first-round pick in the 2015 NHL Draft and another conditional pick. The conditional pick could become a 2014 1st round pick if the Blues make the Western Conference Finals this year or Miller re-signs with them.
Ryan Miller has been the face of the franchise for a long time. He was drafted by the Sabres in the 5th round of the 1999 NHL Draft. Before making his debut with the Sabres, he won the Hobey Baker as the NCAA best player in 2001. His 26 shutouts and .941 save percentage are still NCAA records. He is the team's all-time leader for the Sabres in games (540) and wins (284). He had 28 shutouts and a 2.60 goals against average (GAA).
Perhaps his best year as a goaltender came in 2010. In that year, he finished with a 41-18-8 record and a 2.22 GAA. He was awarded the Vezina Trophy as the league's top goalie. In addition, he led Team USA to a Silver Medal as the Americans lost to Canada 3-2. Miller was also named Most Outstanding Player of the Olympics.
During Miller's press conference after the trade, he sounded somber. It's "very emotional right now, just hard right now" Miller said. This coming from the goaltender who had spent his entire career with one team.
The Sabres believed in Miller and never gave up on him even thought he had a rough start to his career. He lost his first 2 games as a starter and was sent back to the Rochester Americans of the AHL. He was later brought up to face the Detroit Red Wings later on that year and suffered a 7-2 loss. Miller was very emotional early on in his career but has matured since.
The Sabres have now traded their captain for the 2nd season in a row. Last year, they sent Jason Pominville to the Minnesota Wild. This time, they sent Steve Ott to the Blues along with Miller. "It's a big honor to be captain of this team" said Ott. Ott has been beloved by fans since his arrival to Buffalo. Fans appreciate his blue collar work ethic and the way he has led this team. Ott is a no-nonsense type of player and shows up to play every night.
Ott was thankful for how the community welcomed him and his family to Buffalo. Ott said the fans have been "nothing but first class". Ott this season has 9 goals and 20 points.
Jaroslav Halak is having a good season. He is 24-9-4 with a 2.23 GAA. He is in the final year of a 4 yr.-$15 million contract. Halak could re-sign with the Sabres. However, there has been talk too that Sabres GM Tim Murray may go and trade Halak and receive more in return. That would make Jhonas Enroth the Sabres starter if Halak is traded. If Halak stays, it will be interesting to see what happens as the Blues are averaging more than a goal a game better than the Sabres.
Forward Chris Stewart has 15 goals in 58 games this year. Stewart has one more year left on his current contract and has a cap hit of $4,150,000. Stewart's best season in his career came in 2009-2010 when he scored 28 goals and had 64 points when he played with the Colorado Avalanche.
Prospect William Carrier is a left winger who is currently playing in the QMJHL. In 21 games this season, he has 5 goals and 15 points. He is only 19 years old so he could still play in Juniors for a bit longer.
The Sabres are in rebuilding mode. It is not a word Sabres fans want to hear as it sounds like they rebuild every few years. Murray with this trade has shown that he is very aggressive, something former GM Darcy Regier was not. Look for Murray to make some more moves before the trade deadline. Possible other players that could be moved include Christian Ehrhoff, Tyler Myers, and Matt Moulson.