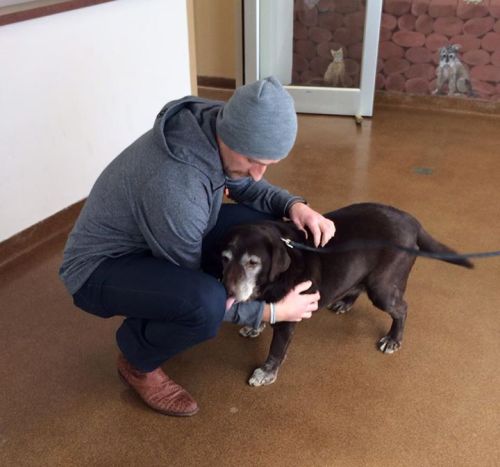 It was opportunity that brought Tyson Strachan to Buffalo and influenced him to sign with the Sabres.
Alongside his girlfriend Kate, Strachan does something unexpected to give four-footed friends opportunity at a new life through his organization, Strachan Strays, founded by Strachan and Kate.
It started with love for animals, grew in popularity thanks to fan support, and ultimately became what it is today: an organization that promotes pet adoption and responsible pet ownership.
"Strachan Strays really came to be because of the support of the fans," Strachan said. "My girlfriend Kate and I are huge animal lovers and have always made a point to volunteer with local shelters and be advocates of responsible pet ownership wherever I have played.
"Through the use of Twitter we started to promote local shelters and advertise adoptable pets in the area. Fans really embraced the concept, and we realized that we had a great opportunity to raise awareness about homeless animals and to help these animals find homes.
Strachan and Kate each have an adopted dog of their own. Strachan's is a black purebred Cane Corso named Raja, and Kate's is a smaller white mixed breed named Soder. The pair encourage others to follow their example.
"Our mission with Strachan Strays is to promote pet adoption and responsible pet ownership," Strachan said. "Our goal is to raise awareness and educate individuals on how they can make a difference in the fight to end pet homelessness."
Strachan's NHL journey started in 2008 with the St. Louis Blues, and he also spent time with the Florida Panthers and Washington Capitals. Strachan's latest stop is Buffalo, NY, where the gritty defenseman signed a one-year deal with the Sabres and quickly earned his way into a regular role on the ice.
"My decision to sign with Buffalo had a lot to do with opportunity," Strachan said. "The organization has taken a lot of great steps to rebuild and create something special, and for me I thought it was an awesome opportunity to come here and be a part of that."
Although the Sabres haven't had the start they would have preferred – 5-13-2 through Tuesday's 4-1 win over the San Jose Sharks – Strachan sees talent on the team and is excited for a bright future.
"As a team we have struggled to win games early in the year, but as a whole you can see how much talent there is in the locker room," he said. "It's hard not to think about the short term, but it is exciting to see all the progress that we are making.
"I think that our goal as a team is to continue to get better every day. As a team we need to continue to improve and learn to win on a consistent basis."
So far, despite the results, Strachan is enjoying his time in Buffalo. He played his first regular season game on October 14. On October 30, Strachan's birthday, he played his second game of the year and has been a regular in the lineup since then. He has 17 blocked shots in 10 games while also picking up four secondary assists.
He's become a defensive leader on the ice, with the pairing of Strachan and Tyler Myers totaling more ice time than any other pairing over the past three games.
"Playing for Buffalo [has been] a lot of fun," Strachan said. "This is my fourth NHL team, and it is always a great experience to play for a new team. Buffalo is such a great sports city, and the fans have been awesome."
In each city, Strachan Strays has found a local shelter or organization to partner with. A highlight for Strachan was when the Washington Nationals hosted a Strachan Strays Night last year. Proceeds from tickets sold benefitted a local shelter in Washington, DC.
Strachan and his girlfriend Kate spent Wednesday's "snow day" (the Sabres canceled practice due to historic amounts of snow in the Buffalo area) finding a Buffalo organization to partner with. They decided on the SPCA Serving Erie County and spent the day making new friends there – both humans and animals. Strachan Strays is planning on some fundraisers to benefit the SPCA.
There are plenty of ways for people to get involved. Strachan named a few.
"We would love if people would take the time to check out our website (StrachanStrays.com), and they can follow us on twitter @StrachanStrays. We currently sell T-shirts on our website, and 100% of the proceeds go to our partner shelter."
Strachan has set high goals for his organization, but he'll do as much as he can to get there.
"We want to continue to grown Strachan Strays, and educate as many people as possible," Strachan said. "The end goal of this is to find a home for every adoptable animal."
Love Reading About Hockey?

Subscribe to keep up-to-date with the latest and most interesting hockey news!
| | |
| --- | --- |
| | We hate spam just as much as you |