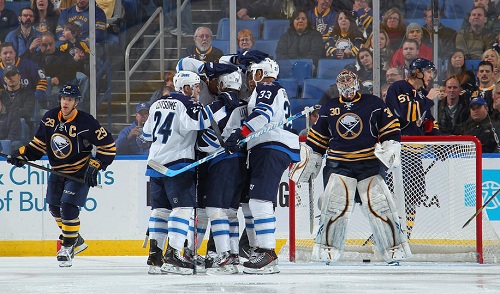 For the second game in a row, the Buffalo Sabres found themselves on the wrong end, losing to the Winnipeg Jets 2-1. Jason Pominville scored the lone goal for Buffalo. Ryan Miller made 26 saves.
The Sabres started out just like they did in their past game, by allowing a goal within the first minute of play. Evander Kane was able to dig out a puck from behind the net and pass to a wide-open Bryan Little who beat Miller and it was 1-0. (James Wright also with an assist). The Sabres looked lackluster in the 1st period, not generating many chances. Jason Pominville said that he was "disappointed in the way we came out".
Winnipeg would extend its lead to 2-0 early in the 2nd period. Nathan Gerbe turned over the puck to Ron Hainsey. Hainsey passed to Andrew Ladd and beat Miller. The fans were livid after this goal and booed the Sabres several times in the frame. The Sabres would finally get on the board with less than 30 seconds left in the period. Jason Pominville led a 3 on 2 break and was very patient. He fired a slapshot and beat goaltender Ondrej Pavelec to make it 2-1. Cody Hodgson with the assist.
Miller made a few key stops in the 3rd period but Buffalo really didn't generate enough quality chances to score. Buffalo was 0-3 on the power-play.
Buffalo looks to end its losing ways as they travel to Toronto on Thursday to take on the Maple Leafs.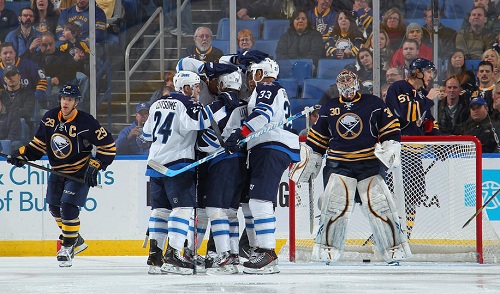 Game Notes:
Jordan Leopold and Mikhail Grigorenko were healthy scratches.
Andrej Sekera missed the game due to a lower body injury. T.J Brennan and Mike Weber filled on defense.
Christian Ehrhoff continues to be a workhorse as he logged 26:21 minutes of ice time.