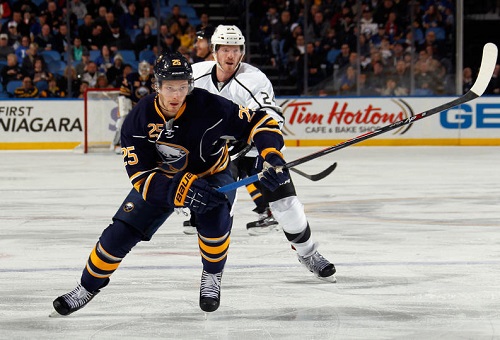 The Buffalo Sabres announced that 4 players would be sent down to the minors or their respective Junior Hockey Team. Both Rasmus Ristolainen and Johan Larsson were sent to the Rochester Americans of the AHL. Rookie Nikita Zadorov was sent back to the London Knights of the Ontario Hockey League. Mikhail Grigorenko's situation is a little bit dicey.
Buffalo had the idea that Grigorenko would be sent down to Rochester on a conditioning assignment. However, the NHL blocked the move as it has a special rule in regards to players drafted out of the Canadian Hockey League and they are under 20. So, for the time being, Grigorenko will be staying in Buffalo. Perhaps he will be a healthy scratch for a few games. Perhaps they will send him to Juniors.
Grigorenko has not been impressive at all this season. He had 2 goals and 1 assist in 15 games. For the most part, he has been getting about 11 minutes a game. In fact, he had gone 13 games without scoring a goal until he had 2 against the Anaheim Ducks back on Nov 8th.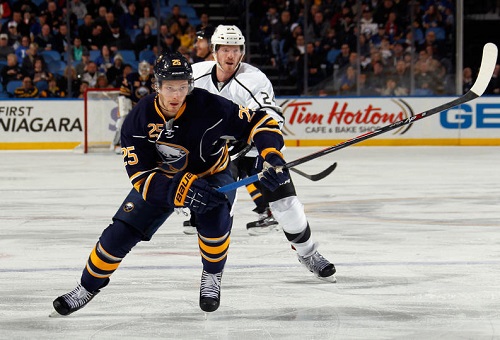 Ristolainen has been steady on defense for the Blue and Gold. Drafted 8th overall in this year's draft, Ristolainen has seen plenty of time on the ice in various situations. In 19 games, he has one goal and a -4 rating.
Larsson has not done much offensively for the Sabres at all this year. In 17 games, he has one assist (against Anaheim). Larsson had been getting around 10-12 minutes a night. He has not played since Nov 8.
Zadorov will be going back to the London Knights. There have been plenty of times where he has been a healthy scratch in this young season. Only having played 7 games, he has only suited up twice in the month of November. With only one goal in 7 games, perhaps getting his confidence back in Juniors will do him some good.
Coming up from Rochester are Luke Adam and Brayden McNabb. Adam is having a superb season for Rochester as he has 13 goals, which is tied for most in the league. McNabb was 4th in scoring on the Amerks as he registered 2 goals and 10 assists.
Buffalo plays the Philadelphia Flyers on Thursday, puck drops at 700.