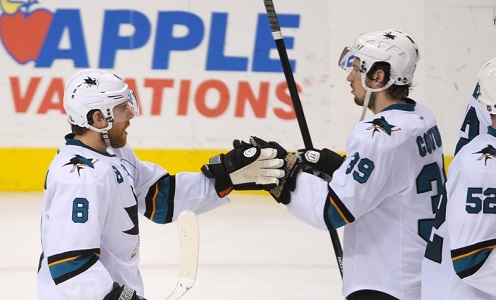 It's been a beyond painful offseason. We experienced the loss of a beloved commentator, addition of a questionable player, and just straight up confusion. All of that is going to be put to rest when the season starts in a few short days. Major questions for this upcoming season are which young players will excel, which goalie will excel, and who our captain is going to be.
Young Dudes
Sharks GM Doug Wilson has made it clear that he wants the team to be taken over by younger players. There are several ways to look at that. It could be some slower veterans getting kicked off the team in favor of young speedsters, or just the captaincy being handed off to a new set of guys. Maybe even both of these things will happen. Some intriguing players out of camp are Barclay Goodrow (sick name I know), Mirco Mueller, and Nikolay Goldobin. All three can possibly make the roster in my opinion. Will they be the next Tomas Hertl? Probably not. But if they can produce like Matt Nieto, I would rather have them instead of Adam Burish, Scott Hannan, and James Sheppard. My prediction is that all three of them get some playing time this season if they don't make the opening night roster. It also depends how Raffi Torres is feeling/recovering after his knee surgery. That might be a time for the young forwards to really show their talent.
Niemi or Stalock?
Another major issue the Sharks need to solve fast is the goalie dilemma. Start Niemi, who proves to be inconsistent at the worst times, or give Stalock a shot at stardom. Niemi can have a good season if he gets hot fast. Two short seasons ago he was a Vezina candidate, and now he's at the point where you can never be sure when he will have a solid game or let in softies. Looking at the past actions of coach Todd McLellan, my prediction is that he starts the season with Nemo, but if needed, Stalock will take over the starter spot.
Oh Captain My Captain
Haha that's a good subtitle. It's funny because we still don't have one. Young guys will have the C and A's this year. If they don't get them, then Doug Wilson's pants will be on fire for lying about handing the team over to young guys. Joe Thornton will still be an amazing leader, just without a letter on his sweater (yay rhyming). My prediction: Joe Pavelski will be the captain, with Logan Couture and Marc-Edouard Vlasic getting the alternate titles.
I'm excited for this season. I hope to see a bunch of fresh new talent, and a banner in San Jose. Oh…and of course Beat LA!