Featured
San Jose Sharks
San Jose Sharks Adidas alternate "Stealth" jersey could have been better
Find out what the Sharks' Adidas alternate sweater should actually portray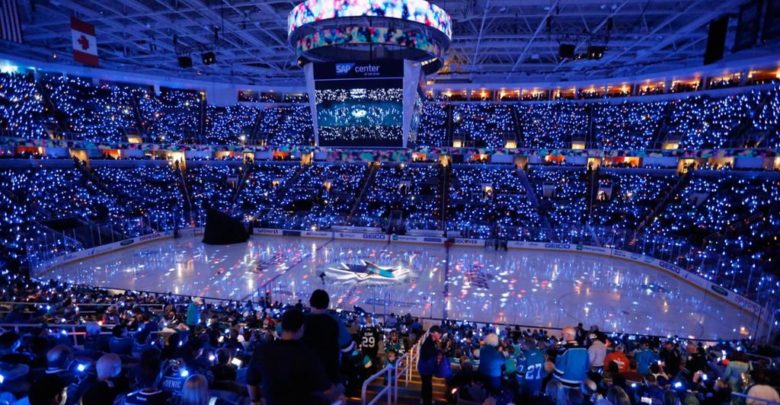 There's no denying the fact that the San Jose Sharks have donned some of the NHL's best sweaters since the franchise's inception back in 1991.
The Teal's hockey sweaters are also arguably the best uniforms in all of professional sports, but the Sharks may have bumped into a minor setback after San Jose unveiled its 2018-19 Adidas alternate sweater on Saturday.
The Sharks are set to take to the ice for the upcoming season at the ol' Shark Tank (SAP Center) while donning the team's fourth, and third black, alternate sweater. However, this hockey jersey enthusiast believes that the sweater's overall design could have been better with a few minor tweaks.
Emerging from the still of darkness. #StealthMode https://t.co/cIQlPipgLA pic.twitter.com/t4btfQhLj3

— San Jose Sharks (@SanJoseSharks) September 23, 2018
There was no wrongdoing by introducing another black-based alternate jersey, but the "black-on-black" theme has no place in professional sports and on the ice for that matter. It portrays a "fashion jersey" rather than an authentic hockey sweater that teams wear for regular season games.
What should the Sharks change?
For starters, the color white needs to be involved more throughout the overall design. In between the two teal stripes on the jersey's sleeves is one area that white should be incorporated.
Yes, the team opted to have a cool and under the radar micro-chip "circuit pattern" that spells out "SJ" in tribute to Silicon Valley, but the Sharks could have easily encrypted that aspect somewhere else on the jersey. Or, just have the pattern entailed with the white coloring in between the teal stripes.
#StealthMode is the new night mode. pic.twitter.com/pOl3y3lraz

— San Jose Sharks (@SanJoseSharks) September 23, 2018
Let's not overlook the main crest on the sweater, either.
The "Stealth" theme was taken too far and especially with all of the logos on the jerseys. San Jose should have just used its normal primary logo for the sweater, or the alternate logo that the team used for its previous Reebok alternate jersey (2008-2017).
It was a fantastic idea to nod the team's past with one of the Sharks' original secondary "fin" logos on the sweater's shoulder areas (patches), but similar to the jersey's primary crest – they should entail the original color scheme and not a blacked-out appearance.
The jersey's name plates and numbers look fantastic, though.
Thankfully those aspects of the jersey weren't black-on-black and were filled in white and then outlined in teal. The back of the jersey pops in an appealing sense, and if the rest of the sweater entailed those characteristics then the Sharks' 2019 alternate jersey may have just gone down as the league's best since Adidas took over.
Tweet your NHL related questions to @KMcKenna_tLT5 to have them answered & be sure to use the hashtag #McKennasDigest
Kyle McKenna covers the NHL for Hooked On Hockey Magazine. He can be reached on Twitter (@KMcKenna_tLT5)