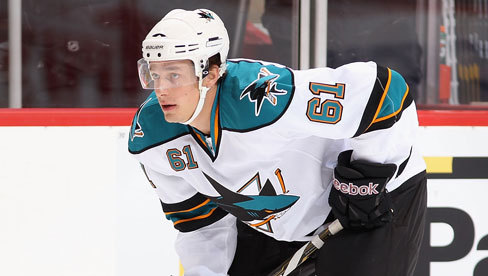 Although Justin Braun is signed through this season, the Sharks don't want him to start thinking about free agency. After his undeniably strong season last year, the 27-year old righty and Team Teal have already started discussions about re-signing when his current contract expires.
Braun averaged almost 21 minutes per game last year, second to departed Shark Dan Boyle. Now with Boyle on the east coast, it looks like Braun will have an expanded role. He was a +19 and seemed like he still had room for improvement, a positive sign.
This news comes just a couple weeks after the Sharks announced they had re-signed fellow defenseman Jason Demers to avoid arbitration, who had his own career year.
"Jason has been a solid, offensive defenseman and is coming off a good season," said Sharks GM Doug Wilson. "His skill set and his age mesh well within our overall group and we're happy to have him signed for two more years."
Demers scored five goals in the 2013-2014 campaign, and was a +14. He also registered one point in the playoffs.