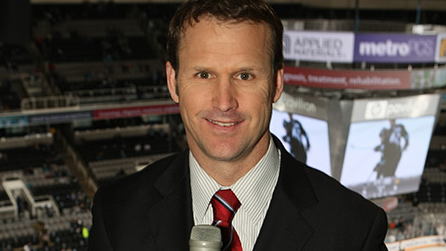 Still sore from the announcement that Drew Remenda had been let go from the San Jose Sharks, Sharks fans finally woke up to some positive news regarding the broadcasting booth on Thursday. Jamie Baker would be taking over the coveted color spot beside Randy Hahn.
Jamie Baker is known very well by Sharks fans. He was the radio color guy working with Dan Rusanowsky for many years, as well as the goal scorer of the infamous goal in the playoffs (commentated by none other than Randy Hahn) against the Detroit Red Wings. Back in July, I thought Bakes was the frontrunner to get the job, as did many people, and now we know that Drew Remenda's former gig will be in good hands. One TV change is that this year there will be a permanent man inside the glass, which will be Baker.
With Baker leaving the radio side of the operation, Bret Hedican now steps in to work alongside Rusanowsky. With that move, a void opens up in the pre and postgame shows, and former Shark Curtis Brown will step into that position.
Finally, Brodie Brazil will now host the Sharks TV show, SharkByte.
So there you have it, the new Sharks broadcast teams. I love Jamie Baker, and he's gonna be a great, but a lot of Sharks fans, as well as I, will mis Drew sincerely. Best of luck with your new gig, Drew, and hopefully you end up being asked back to San Jose one day.