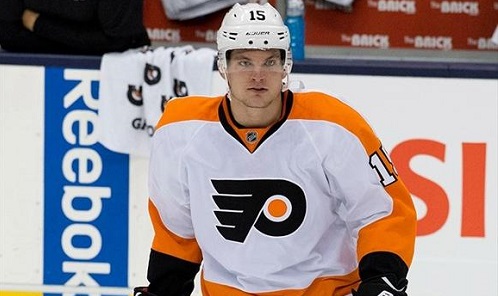 Six players were given qualifying offers by the San Jose Sharks to retain their negotiating rights. I'll explain why each offer was worth it.
Jason Demers
For the longest time I wasn't a big fan of Jason Demers. Sloppy turnovers, poor control on the blueline, and just that feeling of "eh i'm not a big fan." This past season that changed. Demers has turned into an outstanding blue liner and looks like he's going to be improving even more.
Taylor Doherty
Doherty is a big defenseman who can skate, hit, and shoot. He still hasn't gotten a legitimate shot in the big leagues, but if he keeps up his hard work and gets lucky with a couple of injuries, he might get the call up.
Harri Sateri
First off…what a sick name. The Sharks could NOT part ways with someone who has such a cool name. Ok so actually, when he was battling Alex Stalock for the backup position last season he looked pretty good. Obviously he did something right playing in the minors because the team wants him to stay in the organization.
James Sheppard
Sheppard is a bit streaky, but when he gets hot, he is hot. He played well during the playoffs, and was an overall good third liner, so the team wanted to keep him.
Matt Tennyson
Tennyson is the Sharks' number one defenseman in the minors. Whenever someone gets injured he gets called up even though he doesn't get playing time. It looks like he is close to playing in the big leagues.
Tommy Wingels
Last but not least, Tommy Wingels had an incredible year. It was a breakthrough season and it showed he's here to stay. Hopefully he can strike a deal with San Jose because he is a major asset.
Another six players were not issued offers. They are:
| | |
| --- | --- |
| Sena Acolatse | D |
| Adam Comrie | D |
| Nick Petrecki | D |
| Brodie Reid | F |
| Sebastian Stalberg | F |
| Marek Viedensky | F |
Best of luck to them in the future.
As for any other major news with the Sharks is the acquisition of big man John Scott who signed a one year contract worth $600,000. This will bring both size and accountability as Scott is known more for his enforcing than his actual play on the blueline.
San Jose also made a trade acquiring Tye McGinn, the brother of former Shark Jamie McGinn. The 23-year-old McGinn had 35 points, 20 of which were goals in 54 games with the Adirondak of the AHL last season. He also recorded four goals and an assist in 18 games with the Philadelphia Flyers last season.