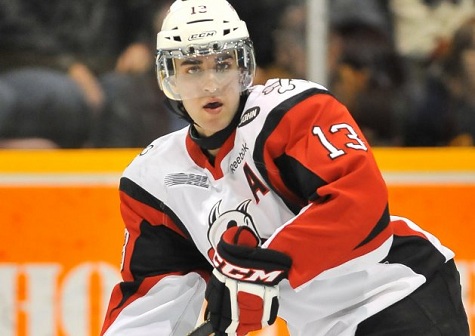 San Jose drafted Freddie Hamilton 129th overall in the 5th round of the 2010 draft, and with a little luck he could end up being the Shark's best draft sleeper since Joe Pavelski. The twenty-year-old center spent the last four years playing for the Niagara Ice Dogs in the Ontario Hockey League where he's shown consistent improvement.
In 2008 during his rookie season with the Ice Dogs, Hamilton scored 10 goals and 18 assists in 65 games with a -11 plus-minus rating. That's not exactly impressive but don't worry it gets better. Hamilton nearly doubled his production in 2009 scoring 25 goals and 30 assists in 64 games with a +6 plus-minus rating. That same year he scored a goal and had 5 assists for the Canadian under 18 team in the World Juniors.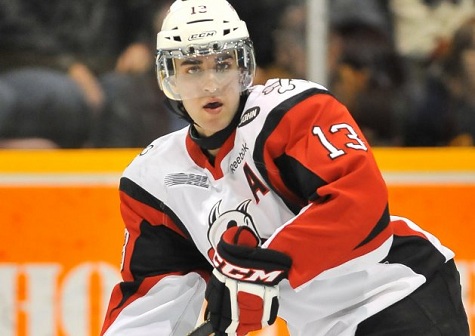 In 2010 Hamilton once again made a huge improvement, this time netting a career high 38 goals and 46 assists for a total of 83 points in 68 games. His plus-minus rating also improved drastically up to +25.
Last season Freddie had another great year with 35 goals and 51 assists in only 61 games, with a plus-minus rating of +29. To put that into perspective using NHLE projections, Hamilton's 2011 performance earned him 34.9 NHLE points. Which is pretty impressive considering Jonathan Toews only had 31.2 NHLE points in his last season at the University of North Dakota. Now I'm not saying Hamilton is going to be the next Jonathan Toews, but his offensive play in the OHL has definitely been encouraging.
It's the consistency of Hamilton's improvement that really caught my eye. It shows he's capable of adapting to a higher level of competition, which is important for a player hoping to make the jump to the NHL. He didn't have the immediate success that Couture had in the OHL, but after 4 years in the league Hamilton and Couture's numbers were identical.
Hamilton has a strong physical game, and is talented in the faceoff circle. If he adds some size and strength he could easily match up defensively against opponent's top lines, while also adding some always needed offensive production.
I wouldn't be surprised if Freddie Hamilton ends up being a top-six forward for the Sharks in the future. He has the talent and he's proven himself in the junior leagues, now it's just a matter of adapting to the speed and skill of the professional game. I highly recommend keeping an eye on this kid as he enters the AHL this year.