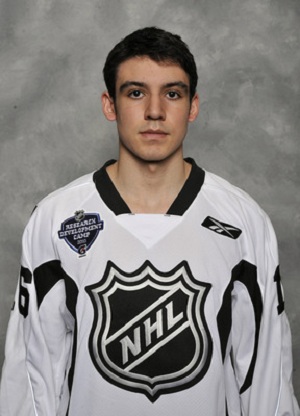 Over the next couple of weeks I want to take an in depth look into the Sharks' prospect pool, and bring attention to some of these young talented players. In order to ensure that every skater gets a rightful amount of coverage, I will be covering each player individually, starting with the top 3 offensive prospects.
The number 3 spot was actually the hardest to decide on, as recent acquisition Travis Oleksuk had an impressive year in 2012 with Minnesota Duluth. His 53 points in 41 games gives him a 43.2 NHLE point rating, the highest of any Sharks' prospect.
For those who aren't aware of NHLE, it stands for National Hockey League Equivalencies, and was developed by Gabriel Desjardins at BehindTheNet.com. The goal of NHLE is to analyze the production of players in various leagues who made the jump to the NHL. By comparing hundreds of players' stats in different leagues to their success in the NHL Gabriel has developed an algorithm that accurately predicts how well prospects can be expected to play in the NHL.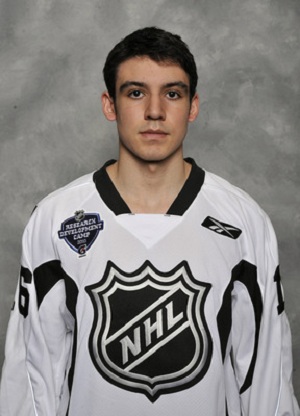 Despite Oleksuk's impressive NHLE numbers, I still believe that Matt Nieto is a more promising prospect for a couple of reasons. The first reason is his age, at 19 Nieto has already progressed faster than the 23 year old Oleksuk. During his first two seasons at Boston University Nieto had a 0 .86 PPG average, compared to Oleksuk's average of 0.58 PPG in Minnesota Duluth. I think as Nieto ages he will continue to grow in size and strength, and produce even better numbers than Oleksuk did in his junior and senior years.
Secondly Nieto's speed and puck-handling abilities far exceed that of Oleksuk's, which I believe will be more valuable to the Sharks' franchise. San Jose already has two young goal scorers in Couture and Pavelski, and they could benefit from an explosively fast skater with playmaking abilities like Matt Nieto.
Eventually Joe Thornton's career will come to an end, and someone will have to fill that role. That being said I in no way think Nieto will be as good as Thorton, but his playmaking abilities may be able to help fill the void Jumbo Joe will leave.
Nieto's raw talent caught the eye of the US National Team in 2008, and in 83 games he scored 44 goals and 43 assists for both the under 17 and under 18 national teams. During the World Junior Championships in 2009 and 2010 he scored 4 goals and 3 assists against some of the most talented young players in the world, which helped the United States win back-to-back gold medals in the WJC tournament.
Now Nieto is far from perfect, and there are still a lot of aspects of his game that need work. His shot definitely could use some improvement, although he is already blessed with a naturally quick release.
Also Nieto has developed a bad habit of forcing passes into dangerous areas, resulting in a lot of turnovers. This closely resembles some of the problems we see with Joe Thornton. If he can learn some patience and improve his vision on the ice he could one day be the Sharks' leading assist man.
Lastly, at only 181 pounds Nieto could benefit from adding some size and strength. This will improve the physical aspects of his game, and bring some power to his already quick shot. Coupled with his blazing fast speed, this combination could prove to be deadly.
I'd recommend keeping an eye on Nieto during his junior season at Boston University. His 42-point performance last year translated to 38.1 NHLE points, and I strongly believe that his production can only go up. I wouldn't be the least bit surprised if Nieto ends up leading Boston University in scoring during the 2012 season.
With a little bit of luck I think the Sharks' 2011 second round draft pick could one day be a top six forward in the NHL. As players like Thornton and Marleau age and eventually leave San Jose, it's going to be up to the young guys to step up and fill that void. Matt Nieto has all the potential to be one of the players who will help lead the Sharks into a new era.
Follow me on Twitter @ChrisBleedsTeal