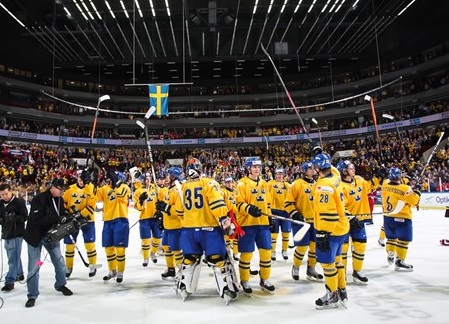 Sweden advances to their third straight World Junior Championship Gold Medal game with yesterday's 2-1 win over Russia. Sweden had already beat Russia 3-2 in preliminary group play and this game wasn't expected to be any different. The host nation will have a rematch against rival Finland, who Sweden beat 4-2 in preliminary play.
Russia got the first chance of the game with just over 30 seconds into the game. Sweden turned it over in the neutral zone and Russia enter on a 3-3, Anton Slepyshev passed it to Nikita Zadorov who took a one time shot. Oscar Dansk was there to make the save and keep the game still tied early.
However, Sweden got the first goal of the game. Five seconds after the first of two players got out of the box for Russia, Filip Forsberg found the net. His one time shot beat Russian goalie Andrei Vasilevski short side between his blocker and his leg pads with 49 seconds left in the first.
In a scoreless second period both teams got some good chances but no one could find the net. Vasilevski made a few good saves while Russia was a man down half way through the period.
Oscar Sundqvist put Sweden up 2-0 with 15:05 left in the final period, after bring sprung all alone on a pass by Linus Arnesson. Sundqvist deked Vasilevski and beat hit with a short side backhand shot.
Russia got its first goal on a fluke by Dansk with 13:23 left in the game. Damir Zhafyarov threw the puck on net from the goal line, it hit Dansk's stick, and elivated past the Swedes netminder.
Russia pulled its goalie late put couldn't find the equalizing goal. As the last seconds ticked off a few Russian players pinned a Swede against the boards. Jesper Petterson came in defense of his teammate as well as a few others. Petterson ended up fighting Andrei Miranov after all was send and done.
Sweden will play Finland today after they defeated Canada 5-1 in their semifinal game to earn a trip into the finals.