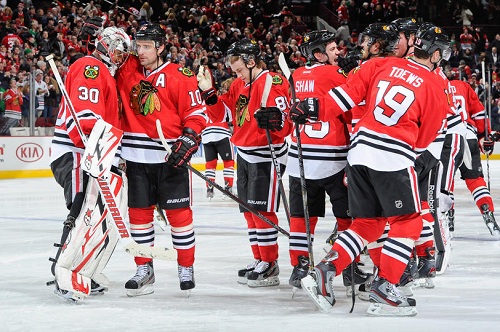 There is a saying that records are meant to be broken. Tuesday night wasn't the first time an NHL record was broken, and it won't be the last. Tuesday night wasn't the first time the Chicago Blackhawks have been etched into NHL history, and it won't be the last. But Tuesday was a roller-coaster night, and the Blackhawks have set themselves up to be, and do, something special.
After Tuesday's game against the Vancouver Canucks, Chicago has taken at least one point in every game they've played so far this season. With a record of 13-0-3, the Blackhawks have tied the 2007 Anaheim Ducks for the best start to the season, with a point in the first 16 games. However, Chicago's 13-0-3 record bests Anaheim's 12-0-4 record as Chicago has 29 points and Anaheim had only 28. So although Chicago has technically tied the record for most games with a point, the Blackhawks have set a new NHL record for most points to start the season. Interestingly, Anaheim went on to win the Stanley Cup in 2007.
Hockey historians may also cite the 1984-85 Edmonton Oilers and the 1943-44 Montreal Canadiens who each started their respective seasons out with 14 game point streaks. Both of those teams brought Lord Stanley home as well. But let's not jinx ourselves. Not all news from Tuesday night is good news for Blackhawks fans. After putting on a show in the second period, Chicago was up 3-1 at the start of the third. About one minute into the third period Vancouver's Janik Hansen delivered a un-accidental elbow to the back of Marion Hossa's head, instantly dropping Hossa to the ice, face-first, only feet away from where he was left sprawled at the end of last season when he was removed from the ice on a stretcher.
The reaction in the Madhouse was that of shock, anger and worry all rolled into a stunned silence. In front of their television sets, Blackhawks fans may have been shouting 'Eh-Holes!' or something to that effect to the Vancouver visitors. However, Hossa was able to get up under his own power and leave the ice. The Blackhawks went on to enter the record books, thanks largely to Hossa's two goals in the game, but many fans are still waiting on what happens now.
Chicago doesn't have a game until Friday when they will host the San Jose Sharks, so until then, there is no official word on Hossa's condition. Blackhawks Coach Joel Quenneville said after Tuesday's game that Hossa seemed alright and he will be reassessed over the next few days. However, Coach "Q" did add that there is some additional concern over Hossa taking his past concussions into account.
Hansen had a hearing Wednesday afternoon to determine what, if any, possible punishment he would receive thanks to his hit. With Hossa being questionable to play, the Blackhawks can't dwell on the negatives and need to focus on one game at a time. When asked about his team's success, Jonathan Toews has said that he has had only one goal all season long, making the playoffs. That is how this team needs to think. Winning streaks and records are nice, but it won't matter if you aren't in the running to lift Stanley. Right now, Chicago has that very real opportunity.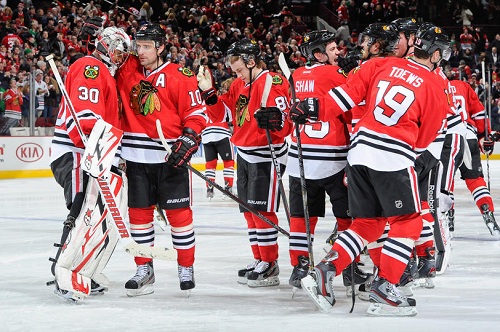 And in case they need some extra cheering up, there are other Blackhawk milestones anticipated this year. Patrick Sharp is only three goals away from the 200-Goal mark, and only one point away from the 400-Point mark. Michal Rozsival has hit the 200-Assists mark, while Steve Mondtador is two assists away from the 100-Assists club and Johnny Oduya is four assists away from 100. This year is looking bright for Chicago, with some highlights already etched in history.