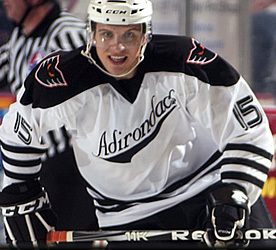 "The team that traded you, you want to do well against them. That's what I'm going to look to do and I'll try to have a big game." Those were Brayden Schenn's comments on Tuesday, the day before he would face the Manchester Monarchs – his former team – for the first time.
Schenn had the biggest game of his Phantoms career on Wednesday morning, netting three goals in Natural Hat Trick style against his former team. After Brandon Kozun gave the Monarchs an early lead at 11:07 of the first period, Schenn quickly answered with his first at 14:32 of the first, followed by two third period goals (00:20, 05:36) leading the Phantoms to a 4-1 victory.
The number 5 overall pick by the Los Angeles Kings in the 2009 NHL Entry Draft, Schenn was traded to the Flyers in the blockbuster deal last offseason that sent former Flyers captain Mike Richards to L.A. After ending his injury-plagued rookie season with 12 goals and 18 points in 54 games in 2011-2012, Schenn has now been reunited with the AHL due to the lockout (have you heard about it?).
Any player's dream after being traded is to make your former team regret it. Schenn accomplished that feat Wednesday morning, in a promotional 10:00 AM start – Kids' Education Day held by the Manchester Monarchs. His 7 goals on the year now tie him for 2nd in the league, trailing only Zach Boychuk of the Charlotte Checkers (9).
The Phantoms will try to carry over their stellar play into this weekend when they travel to Binghamton on Friday night to face the Senators and then the Syracuse Crunch on Saturday.
Other Notes:
Even with the dominant play of Scott Munroe, Terry Murray continues to have the goaltenders split time, each having 6 starts on the year. Scott Munroe started Saturday in a 2-1 loss against Albany, stopping 29 of 31 shots and improving his season save percentage to a .925. Cal Heeter had a huge game Wednesday against Manchester, stopping 36 of 37 and drastically improving his overall save percentage to a .897, much higher than the .875 he carried into the game.
Sean Couturier also returned to the lineup after missing the previous two games with flu symptoms. He had three shots on net and finished the game with an even +/-.