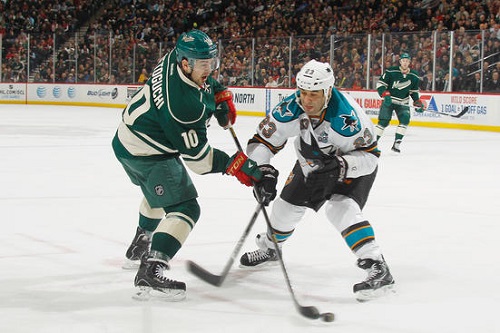 The Sharks came into Minnesota feeling good about a comeback win in Edmonton. On the other hand, the Minnesota Wild were ready to build on the four game winning streak they were on.
The first period started off with some excitement just 3:06 in. Tripped on a breakaway, Andrew Desjardins was awarded a penalty shot. Unfortunately the shot was stopped by Niklas Backstrom, who played phenomenal hockey for all 60 minutes of the game. After some time, Brent Burns was charged with the dreaded four minute double-minor high stick penalty. The Wild had multiple chances, but Sharks goalie Antti Niemi came to the rescue every time. The first period concluded with no goals, and it looked like it would be a game of goalies.
The game resumed in the second period, with both goaltenders looking sharp as usual. It wasn't until 12:10 into the period that Zach Parise lit the lamp, opening up the scoring. It was a rocket snipe from the corner, officially an even strength goal even though James Sheppard was still standing in the box about to skate out. 3:24 later we had a fight. Two guys who usually don't fight, Torrey Mitchell and Tommy Wingels, dropped the gloves and looked like seasoned fighting veterans. A little weird seeing two former teammates drop the gloves, but it's part of the game. Wouldn't be surprised if they went out for a drink afterwards. The second period then ended, but at the very end of the 20 minutes, Dan Boyle was assessed a penalty for tripping.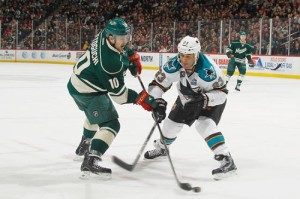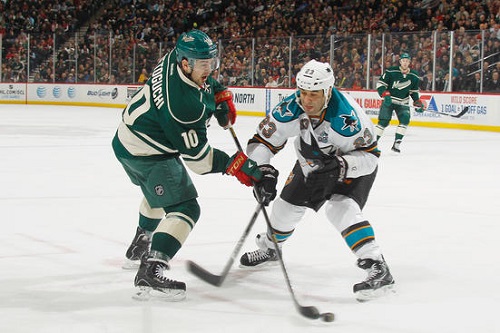 The third period opened up with the Wild on the power play, and 1:17 into it Jared Spurgeon scored. The puck whizzed by Niemi, and in. The rest of the game concluded with back and forth action, with the Sharks unable to score a single goal.
The Sharks play their Pacific Division rival, the Anaheim Ducks, on Monday.
Game Notes: Niklas Backstrom registered his first shutout of this season (27th career shutout), this was the third time SJ has been shutout this season (first in regulation), Minnesota is on a five game win streak, the last time the Sharks had a successful penalty shot was in the 2009-2010 season (0-2 this season).