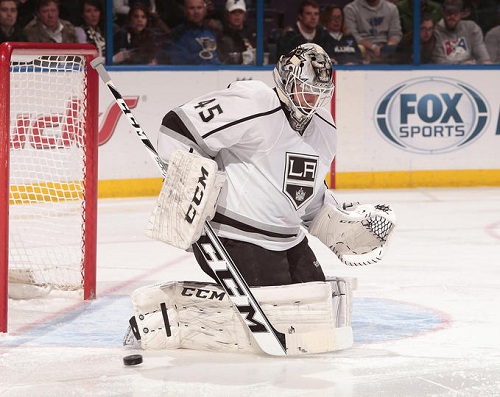 Los Angeles was left seeing red Sunday afternoon. The Kings Alec Martinez managed to tie up a one-point game against the Detroit Red Wings with 53 seconds left in regulation – only to have the team allow a puck to trickle into the net with 4 seconds left on the clock!
Hey, that could only happen once, right? Oh, that's right, it happened in Edmonton just a few weeks ago.
But Monday had them singing a different tune – and it sure wasn't the blues! Who can forget when the Kings swept St. Louis during last year's playoff run? The Blues certainly hadn't. It was another emotionally-charged game, with plenty of fists swinging throughout the night.
Kings goaltender Jonathan Bernier had his first start of the season, while Brian Elliott was informed just five minutes before the puck dropped that he would be in net for St. Louis. Bernier made 21 saves, never allowing a rebound to get past him, earning himself the third star of the night. Elliott stopped 19 pucks from crossing the line.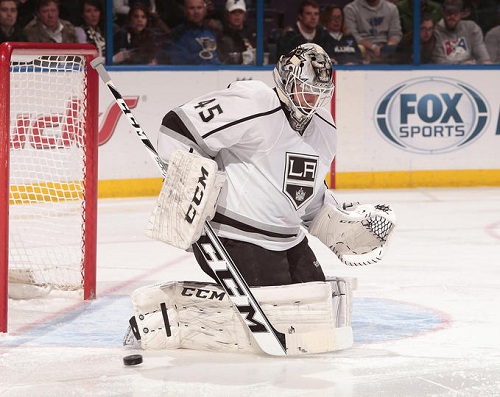 Jeff Carter scored two goals for the Kings. The first was a backhanded shot that was the result of a pass from a lightning-quick Slava Voynov, who came barreling down the ice with the puck. Davis Drewiske picked up his fourth career goal by scoring the third goal for Los Angeles. With less than a minute remaining in the second period, Alex Steen of the Blue got a slapshot into the back of Bernier's net. A few minutes into the third, Jarret Stoll scored for the Kings, making the score 4-1, which would be the final outcome.
The Kings looked every bit the dominant team that everyone has been holding their breath for, while the Blues looked more like the Kings did a few games ago. The Los Angeles hockey club still has a lot of areas that need to be cleaned up, though. When they get a power play, it would be nice if they wouldn't get a penalty called against them in return. Perhaps they hate having the advantage?
Still, if they can keep up this type of play, they should be able to pull themselves up from the bottom. They have plenty of reason to rejoice after yesterday's victory.
The only thing that could have made the night better for L.A. would be if the bottom-feeding Columbus Blue Jackets were to whoop the San Jose Sharks with an unapologetic 6-2 score.
Oh, that happened, too.
All in all, it was a good night for the Kings. Do you think they will keep up the success when they make their way back home to battle the Blue Jackets on Friday?
Love Reading About Hockey?

Subscribe to keep up-to-date with the latest and most interesting hockey news!
| | |
| --- | --- |
| | We hate spam just as much as you |