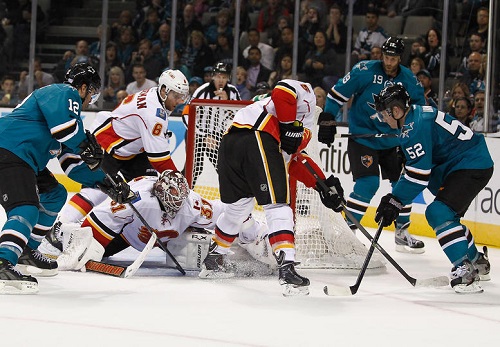 What if I told you that Joe Pavelski is second in points to Sidney Crosby….and he plays on the third line. Pavelski led the Sharks to a 6-3 victory over the Calgary Flames Saturday night with four points.
59 seconds into the game, Pavelski fed Brent Burns to give the Sharks an early 1-0 lead. A surprising statistic, that was the fourth time in eight games that the Sharks got a goal in the first minute of a game. In the second period, Patrick Marleau, who has had a point in every game this season, took a shot which Pavelski deflected into the goal. Later that period, Pavelski returned the favor, finding Marleau wide open on the side of the net, and the the Sharks jumped out to a 4-1 lead. Things got a little scary in the third period. The Flames scored two quick goals in the first 3:56 of the third period, one while shorthanded. There was no breathing room until 9:38 into the period, as Pavelski tipped in a Logan Couture shot. Logan Couture didn't leave the building without a goal though, scoring an empty netter from the red line to seal the victory, and improve the Sharks' league leading record to 7-0-1.
Sharks broadcaster Randy Hahn said that the busiest people in the building were the penalty box door keepers. The Sharks and Flames combined for 15 minor penalties. The Sharks went 3-9 while the Flames went 1-6. Hahn also threw in the comment that maintenance would need to lubricate the door hinges, but I won't go into detail about that.
Pavelski is used to scoring two goals in a game. This was his 20th career two goal game, but he has never gotten a hat trick in the NHL. Coach Todd McLellan said, "We use that term greasy-type player, and what that means is, he battles…the three or four feet around him is always a battle. It's never a soft issue at all. He competes in that area and gets to his next job. Just a competitive guy that has real good hockey sense."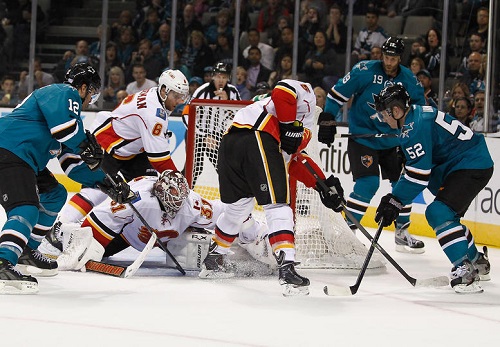 Captain Joe Thornton said, "It doesn't matter who coach puts out there… we're just confident in each other."
The Sharks head out on a five game road trip. They will face Detroit, Boston, Montreal, Ottawa, and Los Angeles. A tough road trip that will really test the Sharks.
A final note: While Dan Boyle is out with injury, Logan Couture and Joe Pavelski will alternate wearing the A on their sweaters. Dan Boyle's agent says that Dan feels great. Hopefully he gets back out onto the ice soon!