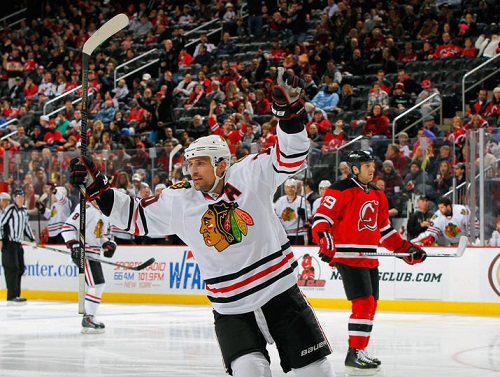 Patrick Sharp has been the talk of the town in Chicago recently. His two hat-tricks in the last few games have propelled him to the top of the scoring charts. But as hot as Sharp is playing now, it's uncommon for his history.
Sharp became the first Blackhawk to ever tally a hat-trick on his birthday back in December. Before that night, Sharp had 18 goals in 39 games. The math on that works out to a 46% scoring rate. Not bad, but not terribly impressive either. Especially for a player considered one of the NHL's best.
Sharp's last hat-trick, before his birthday, was when Chicago was visiting the Anaheim Ducks. Not this season though, it was back on November 25th, 2011.
Since his birthday, Sharp has been on a tear through the score sheets. He's had seven goals in the five games since his birthday celebration. Those numbers bump him up to a 140% scoring average. Over one goal a game, almost one and a half, and three times more than his pace before his birthday.
Yeah, Sharp is on a hot streak.
So hot, that that this is already the best season of his career. At least by regular season numbers.
So far, Sharp has scored 25 goals in 44 games, giving him a scoring percentage of 57%. That percentage is will above the best season of his career before this year, which was in the 2010-2011 season where he had a 46% scoring average after netting 34 goals in 74 games.
Sharp already has better regular season numbers than he ever has, and he still has about half a season left to play.
Some may say that being on the first line on the best team in the NHL, alongside Jonathan Toews and Marion Hossa will give Sharp, or anybody's grandmother for that matter, the chance to put up those numbers numbers. They may be right.
But Sharp's performance is snowballing. He's building momentum and carrying it into each game on the schedule. That's what elite players do, and are asked to do, to help lead their teams. Right now, Sharp is a leader on the score sheet as well as in the locker room which is what his role is on the team. He's doing what he is supposed to do, asked to do, and the Blackhawks are performing well enough to be at the top of the NHL.
At some point, the momentum has to slow. Eventually Sharp won't have hat-tricks every night. But that will be alright because he's already proven that leaders can lead, and one player's hot streak can help propel an entire team.
Love Reading About Hockey?

Subscribe to keep up-to-date with the latest and most interesting hockey news!
| | |
| --- | --- |
| | We hate spam just as much as you |