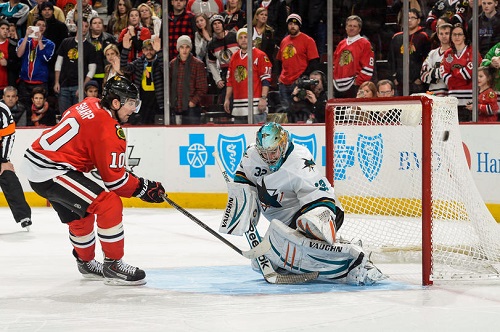 Coming off of his fantastic game against the defending cup champions, and due to Antti Niemi's recent struggles, is it time for Alex Stalock to start more?
In my mind the answer is clearly yes.
Stalock came into this season battling for the backup spot with Harri Sateri. Stalock having more experience won the job as backup, but he hasn't really been playing. Until recently, that is. Stalock has appeared in 10 games this season, starting six of them. He has come into relief for Niemi twice in the past four games, and started against the fierce Blackhawks on Sunday.
Even though I knew Stalock has had a solid season so far, I was expecting a beat down from Chicago. The Sharks had not won at United Center for almost three years, Niemi had been playing like an average goalie at best, and with all of the injuries plaguing San Jose, nothing looked like it could go right. But I was pleasantly surprised with what I saw out of Stalock. The 26-year old kept composure the entire game, even after allowing two quick goals to star the third period. Then in the shootout he stopped both Chicago attempts, making him 7-7 in shootout saves this year, and beating Chicago…ON THE ROAD!!! Stalock is 5-2-0, with a 2.03 goals-against average and .932 save percentage, and one of his two losses came recently against the Avalanche, when he only allowed the game-winning goal in the third period of a 4-3 loss after relieving Niemi.
After the Chicago game, Coach Todd McLellan said that he thought that starting Stalock over Niemi, "…helped our defensive focus a little bit tonight."
So should Stalock start against Nashville tonight? With the defense looking sharper with Stalock behind them, and very little wiggle room in the standings, the Sharks should go with whoever gives them the best chance to win. For me, that's Stalock right now.
***
Another problem for the Sharks has been injuries. Tyler Kennedy is out with the flu, so hopefully that isn't long term. Now let's start with a headcount of the players out with long a term injury. Martin Havlat (no surprise), Raffi Torres, Tommy Wingels, Tomas Hertl, Adam Burish and the newest name to the list, Logan Couture. Six guys are out with injuries, and five of those guys are top nine forwards (sorry Burish…you're the odd one out.) In my mind Havlat isn't a top nine forward, but technically he is…so five key guys are out. The injuries are:
Havlat recently came off the IR only to land back on it a couple weeks later with a lower body injury
Torres has been out since the preseason after a nasty knee on knee collision during a game
Tommy Wingels has a leg injury keeping him out
Tomas Hertl…..thanks Dustin Brown. Running into Hertl's knee was extremely kind of you (surgery…out for a while)
Adam Burish has been out recovering from back surgery
Logan Couture will require hand surgery that will keep him out 3-4 weeks
All of these injuries are certainly not helping San Jose, and hopefully the upcoming Olympic Break helps out with the healing process. When SJ gains all the guys back, if they get all of the back, it will surely jumpstart the team. It will be like getting Raffi Torres at the trade deadline two years in a row (which worked well last year.) Wingels is young and sparks the team. Logan Couture provides points, and Burish likes to fight. IF Hertl and Havlat come back, which isn't guaranteed, Hertl will hopefully play like he did up until the point he got injured.
Havlat would probably land on the IR the second he steps on the ice.