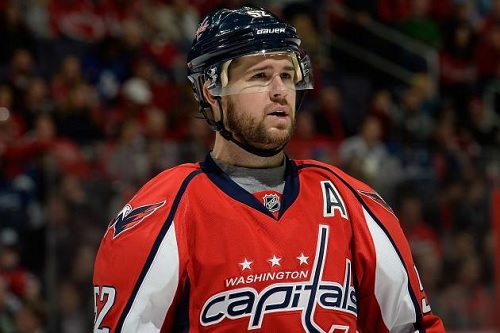 With the signings of Brooks Orpik and Matt Niskanen, the Capitals now have a much deeper defensive corps than last year. This gives the Capitals the option to move Mike Green, their ex-highest paid defenseman. Green is a shell of what he used to be when he had his breakout season in 2008-2009, where he posted 31 goals and 73 points in all. In the last three seasons, Green has played a total of 137 games out of a possible 212 and has only notched 24 goals and 71 total points. So the question is, will the new signing revive Mike Green's career, or is it time to move on?
The Capitals have the deepest defensive group that they have had in quite some time. Between Matt Niskanen, Brooks Orpik, Karl Alzner, John Carlson and Mike Green, the Capitals have a combined 2,358 games of NHL experience on the blueline. Throw in young NHLer Dmitry Orlov and the Capitals defense is one to possibly envy while making the case that keeping Green is in the Capitals best interest.
On the other hand the nearly 6.1 million dollar cap hit that comes with Mike Green could be used to sign a solid second line center that the Capitals have needed for years. Another option the Capitals have is to move a winger like Brooks Laich or Andre Burakowski to the center position and move Mike Green into a forward position. A Dustin Byfuglien or Brent Burns like move simply because Green is an offensive defenseman who can find the back of the net when that's his only responsibility.
If the Capitals choose not to keep Green or change his position, the option still will remain to trade him at any point in the season too. Rumors suggest that the Detroit Red Wings have interest in the defenseman but without Gustav Nyquist in return, a trade with Detroit shouldn't be the first option. With Green on his last year of his three year contract with the Capitals, many options will need to be explored along with pivotal decisions going into the 2014-15 NHL season.