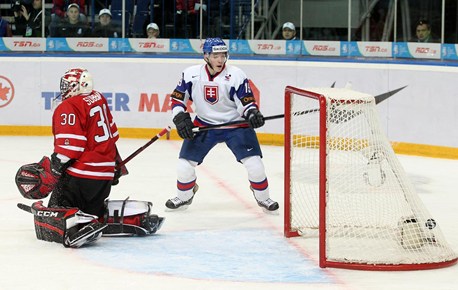 After a bright start against the Russians on Boxing Day, the Slovaks looked like they were going to take Canada to the bank and cash in on a huge win! The Slovaks struck early and often against Malcolm Subban with Marko Dano cashing in first for Slovakia.
Things didn't improve for the Canadians after JC Lipon received a game misconduct plus a 5 minute major for a hit to the head on Slovak forward Tomas Mikus. Mikus made Lipon pay on the power play and buried the puck in the back of the net to give the guys in white a 2-0 lead going into the 1st intermission.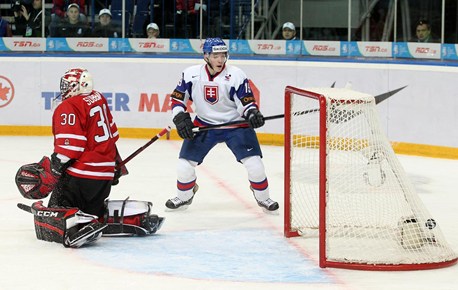 Ryan Strome finally got Canada back into the game early in the second and made it a 2-1 hockey game, but the Canadian team got into a deeper hole a few minutes later after Anthony Camara took another *controversial* five and a game for charging on defenceman Patrik Luza. Luza was carted off on a stretcher and was sent to hospital for precautionary reasons. Strome who scored earlier for the boys in red made a costly mistake for Canada and was sent to the box. Dano cashed in again for the Slovaks and made it a 3-1 hockey game. Canada answered right back with a goal of their own from Morgan Rielly to make the score 3-2 and things went downhill from there for the Slovaks. Martin Reway was sent to the penalty box for cross checking and Canada answered with another goal to tie the game, and then Mark Scheifele scored to make it 4-3 a little short after.
The Slovaks got a few late power plays but couldn't get anything going and went onto lose another heart felt battle this time to the Canadians, 6-3. Slovakia plays against Germany this Sunday at 9:00 AM ET. Canada will play against the Americans this Sunday at 4:30 AM ET.