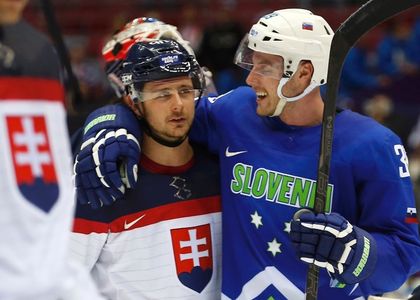 "I'm kinda speechless," said Anze Kopitar. "So happy. This is going to stick with Slovenia for a long time."
While Slovenia celebrated their first ever Olympic win, Sloavkia is left to rethink their performance in the Sochi Olympics. After losing to Slovenia 3-1 on Saturday, Slovakia is now winless at these Olympics.
If the Slovaks don't suddenly start playing better, they won't be sticking around in the tournament much longer.
Slovakia, with 12 NHL players including St. Louis Blues goaltender Jaroslav Halak and Chicago Blackhawks star Marian Hossa, finished fourth and fifth at the last two Olympics.
"It's hard to lose a game like this," Hossa acknowledged.
After two evenly played periods Saturday, Slovenia was stronger and seemed more inspired in the third.
"We were playing nose to nose. But starting with the first goal, we saw that they were going to win," Slovenia's coach, Vladimir Vujtek said.
Slovenia's Rok Ticar broke a scoreless tie 3:23 into the final period. Teammate Tomaz Razingar scored midway through the third and Kopitar had a goal 23 seconds later. Halak finished with 28 saves.
Slovenia's goaltender, Robert Kristan, stopped the first 27 shots he faced before Tomas Jurco scored with 17.8 seconds left in the game to spoil his shutout bid.
The Slovaks were routed by the U.S. in their Sochi opener and face Russia on Sunday — perhaps without a key player. Tomas Kopecky left Saturday's game after getting hit in the head in the first period and didn't return.
The two-time Olympian and Florida Panthers forward was standing near the opposing team's net when Slovenia defenceman Sabahudin Kovacevic landed his left elbow on Kopecky's head to clear him out of the way.
The hit is scheduled to be reviewed Sunday for possible discipline.
Slovakia's coach, Vladimir Vujtek, said he didn't know yet if Kopecky would play against the Russians.