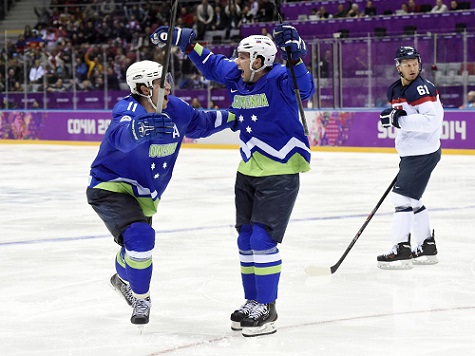 It may not have been the "Miracle on Ice," but it was pretty close.
After their 3-1 victory against Slovakia on Saturday morning*, Slovenia got all they wanted out of their 2014 trip to Sochi for the Olympic Games.
Their first-ever Olympic win in their first-ever Olympic trip.
*Obviously, this is going by the time that our American and Canadian readers would have watched the game. It was technically Saturday afternoon in Russia.
"This is like a gold medal for us," said Slovenian forward Bostjan Golicic.
"Our expectations were to give 150 percent in each game and see what happens," he said. "But then after the first game, we got more confident. We saw that we can compete with everyone. We saw that Slovakia lost the first game and they were beatable. We just believed."
Slovakia took a 7-1 beatdown in their opener courtesy of the Big Stick, while Slovenia held their own against Russia, taking a 3-2 deficit into the third period before falling 5-2.
But the message was clear: The team you most have to fear is the one with nothing to lose.
And with just one NHL player in Los Angeles' Anze Kopitar in on the team, a population of about two million and less than 1,000 registered hockey players, Slovenia came to Sochi not for some kind of gold-medal run, but to prove they belonged.
The underdogs more than held their own versus Slovakia and its 13 NHL players, outshooting them 31-28 and never trailing in the 3-1 victory. Rok Ticar scored the first goal, captain Tomaz Razingar the second, and Kopitar the third to seal the victory. All three goals happened in the third period in a matter of about six minutes.
Slovakia's Tomas Jurco cut into the lead with a goal with 17.8 seconds left, but I doubt it will keep Slovenian goaltender Robert Kristan (who stopped 27 of 28 shots) and his teammates up at night.
And while the media are spelling doom for Slovakia after the loss, for Slovenia, the future has never seemed brighter.
Kopitar, who called his team "star-struck" in the loss to Russia, said that the win against Slovakia "definitely put Slovenia on the hockey map if we weren't already there."
"Maybe people will not mix us up anymore," he said.
Ticar, who scored the first goal, said that the importance of the win could not be overstated.
"This is an unbelievable thing for our country," he said. "They did not think that we could win, only the 25 guys in the locker room. We showed today we can play hockey."
And now, Slovenia finds itself in a spot no one would have predicted. Beat the United States on Sunday morning, and they could find themselves playing spoiler to the whole tournament.
That might be closer to being a "Miracle on Ice," but they've already accomplished more than anyone expected, and they've got nothing to lose.
Honestly, who are you to tell them they can't pull it off?