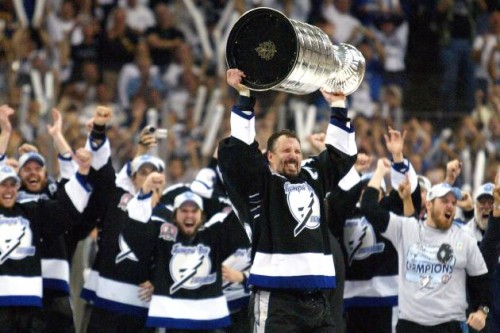 Sure, last season ended in crushing disappointment for the Tampa Bay Lightning.
But winning wouldn't be any fun if losing didn't sting a little. And it's not every year fans get to see their team make a run all the way to the Stanley Cup Final. Like a certain former Bolt who we will discuss later, I think we will all look back on this playoff run fondly before too long. Sure, you never know how long it could be before it happens again due to the great amount of luck, health and other extraneous factors it takes to make the Final (not to mention actual skill and smarts). But this is a young, talented team who should be in contention for at least the next few seasons. With the Lightning looking as stable as they have in years from ownership right down to ice level, I want to take a look back at some of the most important players to help bring the franchise from expansion team to near two-time Stanley Cup champion.
In the long, storied history of the Tampa Bay Lightning franchise – I mean, they were born before I was! – there have been many legends who have donned the blue and white…and yellow…and gray… and black. Hall of Famers*, Stanley Cup Champions, and all-time greats have suited up for the Lightning. We've been running a feature here at HOHM where our different team writers have been ranking the best players in their respective teams' history. And naturally, I have been tasked by my Hooked on Hockey superiors to talk about the top five players from the Lightning's 23-year existence.
*Two: Dino Ciccarelli and Denis Savard
As I alluded to earlier, the difficulty with this exercise is that I am 21 years old. If you took college algebra, you'll know that this means that the Lightning have been a franchise longer than I've been alive. And when I began following the Lightning at around 14 years old – well, you get what I mean. I haven't been a Lightning fan for a long time, relatively or absolutely.
Therefore, this list isn't based on memory as much as documented history. But I've been a Lightning fan for a while. I think I've got the gist. Make your own list if you don't like mine.
Without further ado, I present to you the definitive, inarguable top five Lightning players of all-time.
5) Nikolai Khabibulin
In case you were wondering whether playoff performance would factor into these rankings, this ought to answer your question pretty definitively. Khabibulin makes the list largely due to his playoff performance that netted him five shutouts in 23 playoff games en route to the Lightning's 2004 Stanley Cup championship. But even if you take into account the fact that he was only with the Bolts for three full seasons, his impact was still greater than almost every other goalie in Tampa Bay history. He is still the Lightning's all-time regular season wins leader with 83. It should be an exciting moment when Ben Bishop passes him next season to become the all-time leader – he needs just four more wins – but Khabibulin still did more than enough to qualify for this list. There was really only room for one goalie, and he was the one.
4) Dave Andreychuk
It's hard not to love this guy, and he was another player I couldn't leave off the list despite his admittedly short tenure with the Bolts. Andreychuk's career was winding down when he signed as a 37-year-old with the Lightning before the 2001-02 season, which probably seemed like an odd choice at the time. Tampa Bay had missed the playoffs five consecutive years prior and Andreychuk was still chasing a title. But he must have seen something no one else did. After missing the playoffs in his first season with the team, Andreychuk was named captain in his second season and led the Lightning to the Eastern Conference Semifinals. The following year, he was raising the Cup. He wasn't the best player on any of those teams, but it's hard to imagine the title run happening without him. He's also a borderline Hall-of-Famer, the league's all-time leader in power-play goals with 274 and the 14th-highest goal-scorer in NHL history. He may have only scored 68 of those 640 goals with Tampa Bay, but being the captain of the only title-winning team in club history gets you some perks. Such as being on this esteemed list.
3) Steven Stamkos
This is the ranking that excited me the most when putting together this list. Steven Stamkos is only 25 years old, and I really don't think it is a stretch to say he is the third-best player in the history of the club. He is already the author of four of the five best goal-scoring seasons in team history and certainly within striking distance long term of the franchise's points and goals records. An Eastern Conference Final and a Stanley Cup Final appearance before his 26th birthday aren't too bad either. Did I mention he missed an entire season after breaking his fibula? I can also tell you from personal experience that he understands what it means to be the captain and the leader of the team on and off the ice. This might make him a boring character, but there aren't many guys that are as fun to watch at the top of their games. I fully expect him to be at the top this list five to ten years from now.
2) Vincent Lecavalier
Yeah, sorry, but Stamkos at No. 3 is as controversial as this list is going to get. I mean, I suppose you could flip these next two guys, but it's hard to get too mad either way. When you think of the Tampa Bay Lightning, one of these guys' faces is probably going to come to mind. Vincent Lecavalier was the face of the Lightning from the time he was drafted in 1998 and deemed the "Michael Jordan of hockey" by owner Art Williams. It's hard to argue that he turned out to be that, but Vinny was far from a disappointment. Named captain following his sophomore season, Lecavalier became the youngest captain in NHL history at 19 years and 314 days. Sure, that might have been too much, too soon, since Lightning management rescinded that decision about two years later. But John Tortorella said the whole ordeal helped Vinny mature greatly, and it's hard to argue with the results. By the end of his time with Tampa Bay, Lecavalier was the all-time leading goal-scorer for the Lightning, 2nd-highest point-getter and proud owner of a championship ring. I felt like I was watching the Yankees cut Derek Jeter the day that the Lightning bought out Vinny, even knowing his best days were behind him. But regardless of how it ended, Lecavalier's mark on the city and the club will long be felt.
1) Martin St. Louis
To be honest, deciding between the top two was a borderline toss-up for me. Both men were crucial parts of the Lightning reaching the pinnacle of the sport, and the stability and off-ice contributions of Vinny Lecavalier are arguably enough to make him the most important Lightning player ever. But hell, St. Louis only showed up two seasons later, and each of their departures were fairly ignominious and hard to swallow. I guess putting Martin St. Louis at the top of these rankings reveals my underdog-loving side. I mean, how many guys are 5-foot-8 and undrafted and wind up as the best player in their franchise's history? St. Louis is the Lightning's all-time points leader and no Bolt is going to touch his club-record 588 assists for a long time, if ever. Plus, Marty's got four of the top seven point-scoring seasons in Bolts history to boot. There was nothing more fun than watching him fly around the ice, outplaying and outworking guys seemingly twice his size. And for what it's worth, I think time will cure this particular fan/player rift, and I look forward to the day when the Lightning retire his number and fans welcome him back with open arms. Can you really blame a guy for doing what he thought was best for his family?
Honorable Mentions: Brad Richards, Vinny Prospal, Pavel Kubina
Where did I go wrong? How would you rank Tampa Bay's top five players of all time?
Taylor Gaines can be reached at TGaines@hookedonhockey.com or on Twitter @GainesTaylor.
Love Reading About Hockey?

Subscribe to keep up-to-date with the latest and most interesting hockey news!
| | |
| --- | --- |
| | We hate spam just as much as you |