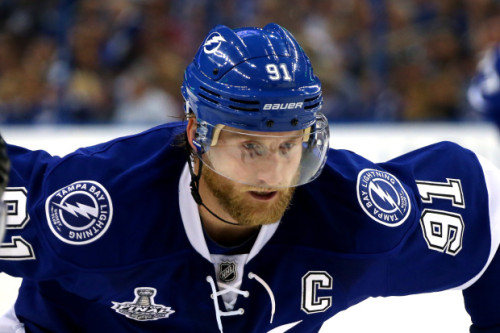 We're baaaaaaaaaaaaaaacccccckkkk!!!!!! It's hockey season again, folks! And boy, am I excited. But enough about me. We're here to talk about one thing. And that's the Tampa Bay Lightning.
Say what you will about the success of last season (of which there was a great amount), but the end of it was heartbreaking. Losing to the freaking Chicago Blackhawks was the worst thing imaginable. I would have preferred the Lightning lose to any one of the other 28 teams in the NHL.
But the toughest thing to swallow is the thought that it is incredibly difficult to reach the Stanley Cup Final.* It takes a lot of luck, health and energy to make such a run, and I don't know that the Lightning can pull it off again.
* For a good example of why this is true, see every single playoff round the Lightning played last season. Each series could have easily swung the other way, including the Final, had a few bounces gone the other direction.
There are two ways to look at it.
The Lightning had a very long, exhausting season last year (hell, I was exhausted). And they could possibly just be too fatigued to make a run like that again. The extra games might simply add up to more injuries. This is a team that was beaten up by the time last season finally ended. Tyler Johnson is still nursing his wrist injury. Another long season could simply add up to be too much health-wise.
On the plus side, this is a very young team. The core of the team – Johnson, Steven Stamkos, Ondrej Palat, Nikita Kucherov, Victor Hedman, Anton Stralman and Ben Bishop – has an average age just a shade more than 25 years old. When your arguably seven best players are that young, things look good. And the relative youth of the Lightning as a team could render the injury bug a non-issue.
One thing that is almost a certainty: This is a deep, young team built to win a lot of games this season. The jury is out on how successful the postseason will be, but I think we should try not to think too much about that for now. Because this is going to be a fun year.* This team will definitely make the playoffs and probably be one of the two or three best teams in the Eastern Conference.
*Just a quick aside: Imagine how fun this season will be if Jonathan Drouin finally wakes up. He's only 20 years old, so that certainly seems like a possibility. And if he becomes a star, this team seems like it would be unstoppable.
Regardless of how the playoffs go, though, there is a dark cloud of sorts that is hanging over the team at this moment.
Brenden Morrow is gone.
Just kidding, it's Steven Stamkos' contract extension.
Namely, that his contract extension has still not been signed. Most pundits thought that Stamkos, whose contract expires after this season, would ink an extension during the summer months. But it hasn't happened. And it's getting close to the point where you begin to wonder, Would he? Would Stamkos really leave a team with as bright a future as the Lightning?
The thought is terrifying, but I suppose that's another issue that we shouldn't worry too much about just yet. Stamkos will be with the team this season, and it's going to be a fun one.
Game One is Thursday night. The Lightning host the Philadelphia Flyers at 7:30 p.m. Eastern.
Drop the puck, baby.
What does everybody else think? How will this season go for the Tampa Bay Lightning?
Taylor Gaines can be reached at TGaines@hookedonhockey.com or on Twitter @GainesTaylor.