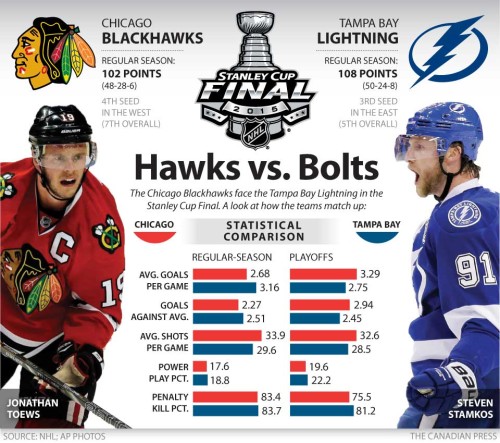 I won't try to deceive you here. I'm a follower of the Tampa Bay Lightning. I have been growing a playoff beard since – well, since the playoffs began. And I am really, really excited that Tampa is up 2-1 right now.
I will say, though, that it almost feels disingenuous to write that disclaimer because I have two eyes and a working, reasonable brain, and I can see what is happening just as well as those people watching the Final who don't have a horse in the race. I know the Lightning commit penalties. And I know the Blackhawks are a really good team.
Trivial matters aside, I want to talk about a couple things I have found funny about the media coverage of the first three games of the Stanley Cup Final. The series in and of itself has been fascinating and intense – thanks to three one-goal games played on the razor's edge – but the media has been highly entertaining to watch as well because they seem to be at a loss when trying to talk about the Lightning. It's been noticeable throughout the playoffs. NBC Sports, in particular, comes across as a group that has just been watching Penguins, Blackhawks and Rangers games the whole season. They seem unsure of how to analyze the strengths and weaknesses of the Lightning outside of vague generalizations ("this is a high-scoring team") and name drops ("Stamkos is good"). It's like they haven't bothered researching or watching tape of Tampa Bay.* The national media is baffled. NBC even often avoids analyzing the play of anyone on the Lightning outside of Victor Hedman. Even when the Lightning are winning, the analysts are more interested in talking about the opposition. ("What can Chicago/New York/Montreal do better to come back in this game?" is one I've heard more than a few times).
*Shout out to NHL Network, who definitely has some analysts that have actually watched tape and learned about the Lightning. I even watched one guy yesterday – I didn't catch his name – who had clearly watched hours of tape on Andrei Vasilevskiy and provided some very sound analysis of what he could bring to the table. Not everyone in the national media is uninformed about the Lightning.
Maybe NBC just has bad analysts. But I want to use them as an example to talk about a larger issue I've had with the media coverage of this Stanley Cup Final. Because they are not the only ones who clearly haven't done their research on the Lightning. Many writers are getting lazy. They are resorting to simple binaries to talk about the series that tell readers nothing. Seriously, search "Blackhawks experience" on Google and look at how many bad, poorly written columns come up.
If you're wondering why I'm using the Blackhawks and their experience as an example here, let me back up. "Experience" is irrelevant in the Stanley Cup Final. It's just another word – like "distraction" and "clutch" – that apathetic reporters use when they don't want to work hard enough to analyze what is actually happening on the ice.
I mean, just think about this for a second: Everyone on the Lightning and Blackhawks has been playing hockey their whole lives. It's not like the game will start and they'll think, 'you know, normally I would pass it ahead to him here, but this is the Stanley Cup Final, so maybe I should change my approach this time.' Athletes practice and play so often that the game becomes an instinct, second nature. Once the puck drops, it really is just another hockey game. Hockey is not a sport that gives you time to sit and overthink things. People should already be convinced by now that if the Lightning lose this series, it will not be because the Blackhawks are more experienced.** Hockey comes down to making plays and, very often, getting bounces. Each game has been a one-goal one, and the series could just as easily be 3-0 Lightning or 3-0 Blackhawks.
**Even writing that sentence, I don't know what the hell it means. How can you point at something and say that it happened because the Blackhawks were more experienced?
It's frustrating for the media to try to put the series in a box, for it to have one distinct narrative. Because when it comes to what's actually happening, "experience" or "distractions" or "clutch" are all figments of the media's imagination. If it fits their narrative, it exists. If it doesn't, forget about it.
Just think of all of the possible media narratives that could have existed if one bounce had gone Chicago's way Monday night.
Chicago's veteran savvy and Stanley Cup experience gave them the edge in their return home for Game 3.
The young Lightning were overwhelmed playing in the United Center. It's an entirely different animal.
The green Lightning were crippled psychologically after failing to score on an extended five-on-three.
Corey Crawford showed he is a Stanley Cup-winning goaltender after a tough Game 2.
Steven Stamkos failed to show up for the Stanley Cup Final, again going scoreless.
Joel Quenneville took advantage of having the last change to outwit Jon Cooper and take control of the series again.
You probably would have heard variations on all of those takes if the Blackhawks had pulled it out last night. Instead, you'll see extreme takes of the opposite variety ('Blackhawks in real danger', 'Lightning's depth the difference', etc.). This is partially the product of an overreactive media. But it's also the product of a media that oversimplifies. Their narratives sound pretty, but they are usually the result of the narrative taking precedence over facts and not the other way around. There is never really a perfect little narrative. That's life, and that's sports, too. Stuff is complicated and conflicting. You can't explain why one team wins a game or a series with one simple storyline. There are a lot of things happening at once.
For example, the Lightning won last night for several reasons. The Blackhawks could not convert on several great chances in the first period, Ben Bishop played surprisingly well, Corey Crawford let in another softie, Tampa had a strong forecheck in the last two periods, Patrick Kane and Jonathan Toews were held in check, Victor Hedman is an all-world caliber defenseman and so on and so on and so on.
The Lightning didn't win because the Blackhawks failed to out-experience them.
One more thing…
I'm envious of neutral hockey fans who are getting to watch this series because it has featured some fantastic back-and-forth action and a lot of really skilled players. Knowing that anyone can score at any moment is great television, but it is quite nerve-wracking as a fan of one of those teams. Nonetheless, I'm thrilled to see where the rest of this series goes, and I imagine it will be just as exciting the rest of the way. I expect the games to be close, and I expect the series to end in seven. Or five. Or six. And the Lightning will win. Or the Blackhawks could win. It's been that kind of series.
Enjoy the rest of the Cup Final. Make sure to keep a critical eye on the media storylines surrounding it. And maybe remind NBC that the Lightning are in the Final too, while you're at it.
What does everybody else think so far?
Taylor Gaines can be reached at TGaines@hookedonhockey.com or on Twitter @GainesTaylor.