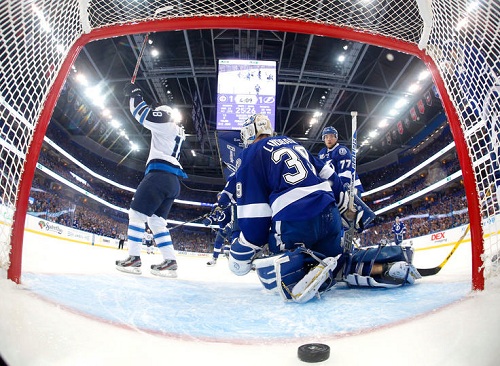 It's gut-check time for the Tampa Bay Lightning.
Following Thursday night's 2-1 loss to the Winnipeg Jets, the Bolts are six points behind the Carolina Hurricanes in the Southeast and near the bottom of the Eastern Conference with 21 points.
After winning six of their first seven games to start the season and leading the league in goals as recently as the middle of February, Tampa Bay never imagined they would be where they are at the halfway point of the season.
The Lightning have to focus on what's ahead of them, center Steven Stamkos said, because there is nothing to be done about the events of the past.
"It's going to take a lot of wins down the stretch," he said. "It's 24 games left. You have to think you have to win at least 16 of those games."
That's a tall order for any team not named the Chicago Blackhawks, and the Bolts have looked incapable over the past month of building any such streak.
"We're in the business of doing the impossible," said coach Guy Boucher , "and that's what it's going to have to be."
It's going to be especially difficult if the goaltending can't step up in the absence of Mathieu Garon, who is out due to a lower body injury suffered Monday night against the Pittsburgh Penguins.
Anders Lindback only allowed two goals Thursday, but he was beat short side once by Eric Tangradi (1) and through the five-hole on Bryan Little's game-winning goal (4) late in the third period.
His inconsistencies and propensity for allowing ill-timed goals has hurt the Lightning throughout the season. He had all but lost the starting job to Garon before his injury, sitting out portions of five straight games before being forced back into action.
Struggles will come with a young goaltender, but in this shortened season, the Lightning don't have time to wait for them to end.
They also failed to convert on five power play attempts, including a full two-minute five-on-three chance during the second period.
"Scoring chances were 15-9 us and 61% on face-offs," Boucher said. "We out-hit them….Their goalie played [well] and we missed chances — incredible quality chances."
Ryan Malone picked up a point in his return from a 13-game absence and Stamkos added to his NHL goal lead with his 18th in the third period.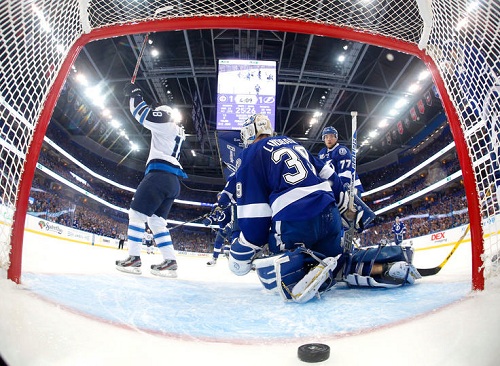 However, the empty-net effort as time expired came up just short despite an abundance of chances as Winnipeg goalie Al Montoya played very well in net, making 28 of 29 saves.
It was certainly a game that, given a few bounces going Tampa Bay's way, could have easily had a different outcome.
Stamkos, though, is done looking for silver linings.
"You want to produce, but you want to do it when the team's winning," he said. "It doesn't matter, one goal, two goals, three goals, a loss is a loss. If you don't get a point, it's a loss. We can keep saying we are playing well, but if we are not winning then [we've] got to find a way."
The Bolts will get their next shot at it Saturday night, in the Forum once again, as the Montreal Canadiens are coming to town. The Habs, one of the league's biggest surprises at the halfway point, lead the Eastern Conference with 34 points.
The game starts at 7 p.m. EST.
Winnipeg, in second place in the Southeast following Thursday night's victory, will be right back in action tomorrow night against the Florida Panthers starting at 6:30 p.m. ET, the third game in a four-game road trip.
For the Lightning, it would be best if Winnipeg and Florida both lost tomorrow night. After all, they are in the business of doing the impossible.
And the impossible is what has to be done if Tampa Bay wants to come back and make the postseason.