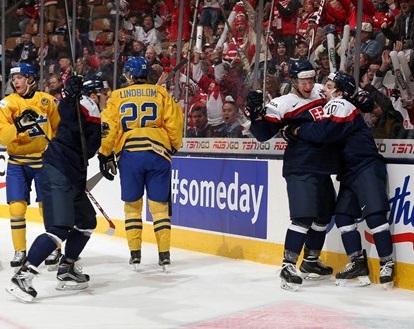 For a team who lost two group games by a combined score of 11-0 (8-0 to Canada and 3-0 to the USA), Slovakia was quick to find its legs in this tournament to earn their second ever medal in tournament history since their split from Czechoslovakia. Not surprisingly, their work ethic made them the dark horse of the tournament, as they powered past the favored Swedes to win a bronze medal, their first since 1999.
This game was poised to be an exciting one from the start, as the heavily favored Swedes looked out of place for the first five minutes of the game, allowing two goals in just 5 shots, including an unbelievable dangle from Mislav Rosandic off a masterful feed from Martin Reway. The Swedes would show their resiliency, though, pulling even before the end of the period.
The Slovaks were very successful in getting under the skin of the Swedes, as the second period saw Swedish defenseman and San Jose Sharks prospect Julius Bergman get ejected with a game misconduct for cross-checking Patrik Koys in the face, leading to an extended powerplay for the Slovaks. They would go on to capitalize on the very same powerplay early in the third to put them ahead for good. Patrik Koys would go on to add an empty-netter to secure the win for Slovakia.
From a statistical standpoint, the Slovaks were not necessarily the most impressive; goalie Denis Godla was lit up often in the tournament, allowing a grand total of 18 goals, 10 of which came at the hand of eventual Gold medalists, Canada. Though in games when the Slovaks did not face Canada, Godla was much more. The statistical leader for total minutes played in the tournament, Godla stood on his head against a disappointing Finnish squad, as well as getting the nod in an easier game against lowly Germany, stopping 65 of 68 shots he faced. Godla would go on to finish the tournament with a GAA of 2.76 and a save percentage of .926, surpassed only by Canada's Zach Fucale, Russia's Igor Shestyorkin, and USA's Thatcher Demko. The story about Godla is very different, though, when you ignore the games against Canada, with him posting a GAA of 1.60, and a save percentage of .954, effectively lifting him past Fucale. Denis Godla is draft eligible this year, and his performance at the tournament is sure to lift his draft stock significantly.
Godla wasn't alone, though, as his impressive effort was combined with a great tournament from team captain and Montreal Canadiens prospect, Martin Reway, who led the Slovaks in points production with four goals and five assists (three in the Bronze medal game against Sweden), putting him two points shy of scoring co-leaders Sam Reinhart, Nic Petan, and Connor McDavid. Slovakia will look to continue their success in next year's tournament hosted in Finland, though they may have to go without tournament heroes Martin Reway and Denis Godla, both of whom turn 20 this year.