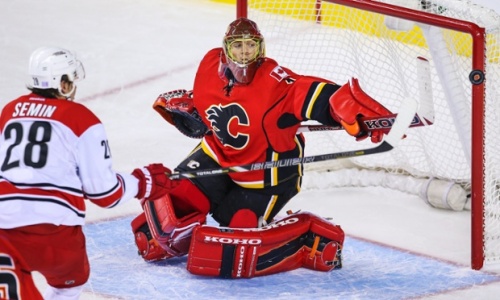 Almost anything the Flames have done through the first month and a half of the season has gained extra attention considering their surprising start. Take the defense for instance: Mark Giordano and TJ Brodie are 1-2 respectively in team scoring and have been the class of the league in that category.
But for all the good the defense – and, increasingly, the offense – has done, Calgary's goaltending has been largely overlooked. If nothing else, the duo of Jonas Hiller and Karri Ramo can rest their hats (or masks) on the fact they have helped Calgary to 11 wins – tied for 3rd best in the NHL.
But, individually, each has been impressive this season, save for a short hiccup from Ramo. In the early going things went so well head coach Bob Hartley rotated the two because each gave his team an equally great opportunity to win. The decision paid off then and the momentum has carried over, as evidence by the 11-6-2 record the team has amassed through 19 games.
In the latter stages of this early part of the season, though, it's Hiller who has been tasked with the starter's role. In his 13 games he has compiled an 8-4-1 record, with wins coming against such teams as the Chicago Blackhawks, Nashville Predators and Montreal Canadiens, as well as a shutout against the Carolina Hurricanes.
Making his success more impressive is the workload Hiller has faced in the form of shots on goal. On average he faces 28.5 shots per game, which are by no means most in the league – Jhonas Enroth faces a league-high 37 – but still enough to keep him busy. His most taxing game, at least on paper, came in the form of a 2-1 win facing 50 shots against the Blackhawks.
As untested as Hiller has been – relatively speaking – Ramo has seen even less action. In seven games, putting together a 3-2-1 record, Ramo has faced an average of 26.5 shots per game. Ramo's résumé this season isn't quite as impressive as that of Hiller, but does include a win against the Predators.
But as mentioned previously, Ramo hit a rough patch in the middle portion of his seven starts. From Oct. 17 to Nov. 8 he went 0-2-1 and was pulled against the Florida Panthers (a game the Flames came back to win) after allowing four goals on 22 shots in just over 30 minutes of work.
One of the only positives from that stretch was he allowed more than three goals just once in four starts – in other words, he gave his team a chance to win. And in his next start after the Florida debacle he stopped 23 of 25 shots to earn the victory over the Ottawa Senators.
While Ramo struggled, Hiller continued to roll – going 6-1-1 in the same period of time – and continued to pad his stats. His 2.30 GAA are 12th among goalies with at least 10 starts, and his .922 SV % is 10th among the same category of goalies (as of Nov. 17).
There's no question Ramo will have to improve his play – no matter how many or how few games he plays – but if the Flames keep racking up wins, the attention that has evaded Calgary's goalies to this point will surely come.