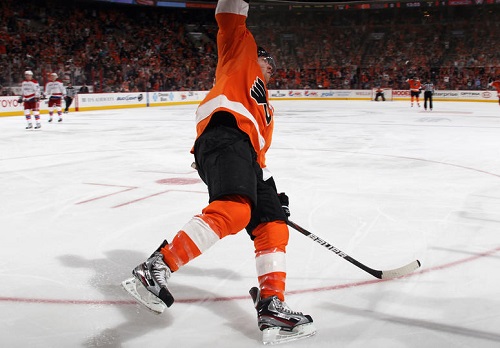 I'm going to come out and say it. Claude Giroux hasn't been the same since the 2011-2012 season. It's a fact.
There may be people who will argue it. They will simply point to the fact that Giroux had 48 points in 48 games last season. What does that really mean though?
In 2011-2012, Giroux was an elite monster, powering the Flyers to ninth overall in the NHL. Claude had a whopping 93 points in 77 games. Once again though, points only count for so much.
It wasn't just the fact Giroux had 93 points, it was the way he put the team on his back and never looked back. It was his constant energy and motivation that he brought to the table day in and day out.
It was the swagger and confidence to score the goal below, just days into the 2011-2012 season. He doesn't let the pressure from behind force him to shoot early. Instead, he decides to undress the Bruins' goaltender for a highlight reel goal.
It was returning from a brief injury and leading the team to victory, picking up a goal and three assists in his first game back.
The whole feel around Claude Giroux has changed. Many will point to the captaincy as being a reason for his struggles. Nobody really saw it as a bad move when it happened prior to the 2011-2012 season though. Now it's the killer of his career?
There are many young captains who have had success in the NHL and it's rare when a captaincy really effects a young player in a negative way. Gabriel Landeskog and Jamie Benn are both two players who were appointed captain before the start of this season, and are having great success.
Both the Dallas Stars and the Colorado Avalanche didn't make the playoffs last season. The Philadelphia Flyers didn't make the playoffs the year before the Giroux was made captain. I think it's completely unrealistic to say the captaincy is the reason for Giroux's downward spiral.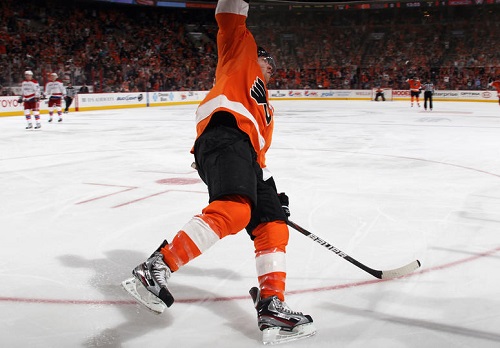 It is just worse because the Flyers are struggling mightily. Everybody looks to him for answers and for him to provide the way he did during 2011-2012. It hit the fan Thursday when Giroux refused to talk to the media following a 3-0 loss to the New Jersey Devils. Writers started freaking out, stating how Giroux needs to start being a better captain.
This bugs me. There is no reason to make a big deal out of this. What do you expect him to say to the media after another terrible outing for himself and the team?
So why has it been 207 days since Giroux scored a goal? What is wrong with him?
It doesn't take a rocket scientist to figure it out. There is only one player who has reached five goals on the team. The Flyers have the lowest goals-per-game average in the entire NHL (1.47). Jakub Voracek and Scott Hartnell only have one goal each.
How is Claude Giroux supposed to feed off this? Giroux is at his best when the Flyers are at their best. In 2011-2012, the Flyers were second overall with 3.17 goals per-game. The team had eight players who had 15 goals or more. It was an offensive onslaught. Giroux had swag.
He could feed passes to Scott Hartnell, who would then rip bombs into twine. The Flyers were getting production from all lines.
It is ridiculous that Hartnell is being let off the hook right now. After his 37-goal season in 2011-2012, Hartnell now has only nine goals and 12 points over his past 42 games (including last season).
How is Claude Giroux suddenly supposed to keep producing when his "all-star" linemate just goes cold? Giroux needs help. There is no one player in this day and age that can carry a team all on his own.
Let's look at last year. The Flyers didn't make the playoffs but Giroux still had 48 points. Why is that? How about the fact Jakub Voracek took off with a 46 point breakout season? Those two fed off each other and developed great chemistry. The exact same thing occurred with Giroux and Jaromir Jagr and Scott Hartnell in 2011-2012.
Here is Voracek, powering the Flyers to a 6-5 comeback victory over the Penguins last season. Giroux assisted on two of the three goals scored by Voracek.
As you saw in 2012-2013, the talent was there, but the heart wasn't. Giroux is good but he will be way better when the vibe around the team is better.
He came out and said recently that his teammates don't think they are a good team. That must get to him. When he has confidence, he is a machine. There is zero confidence in that locker room right now.
This is the Claude Giroux I know. This is the Giroux that knew this team was good enough to upset the Stanley Cup favourite Pittsburgh Penguins in the 2011-2012 playoffs.
Watch Giroux at 0:42 when he throws up his hands after the goal, signalling the crowd to get off their feet. He shouts "let's go!" and bangs against the glass. He energized the Wells Fargo Center and got everybody into that game.
Now, all we see is a frustrated, miserable Giroux that can't stand all the losing. The fans are dead quite at the Wells Fargo Center and there is a feeling of doubt surrounding the team.
People will solely point the finger at Giroux, stating how his minus-11 rating is worst on the team. When it's going this bad, how is this even relevant? There are five other players on the team who are minus-7 or worse. Such a key difference right? Giroux must be traded! He is just such a liability!
Everybody goes through their goal droughts. It happens. Sidney Crosby went through a 12 game goalless at one point in his career. Evgeni Malkin has currently gone nine games without scoring. Those are players on a very good offensive team.
It's the end of the world all of the sudden now because Giroux has gone 21 games without scoring. Individual performance doesn't matter at this point. Giroux will start scoring when the team starts scoring.
You will see all of Giroux's numbers improve when the team starts to improve. He was plus-6 in 2011-2012 and that was because the team was playing with confidence. They were winning. Giroux's minus-7 rating last season was nowhere near worst on the team (Gervais: minus-17). Everybody ended up with horrible ratings.
If the Flyers keep losing every game, all the players will end up with a plus-minus rating similar to Giroux. You watch. He won't be the worst in that category for much longer. He is making some poor defensive plays but how is he supposed to find motivation with the environment surrounding the team?
The Flyers will turn it around and Giroux will be right in the middle of it. Don't expect him to magically turn everything around on his own. He is a very special player and a talent like this doesn't simply diminish into an average player.
There is an elite hockey player in Claude Giroux, and it's waiting to show. He is only 25 and is just starting what I know will be a legendary career. This team isn't much different than the one we saw make it to round two of the 2011-2012 Stanley Cup Playoffs.
The talent is there and the team will get going. When they do, Giroux is going to shoot back to the top of the player rankings. Just don't expect one single 25-year-old to turn an entire season around.
Giroux's resurgence is coming and we will be seeing the man we once knew.