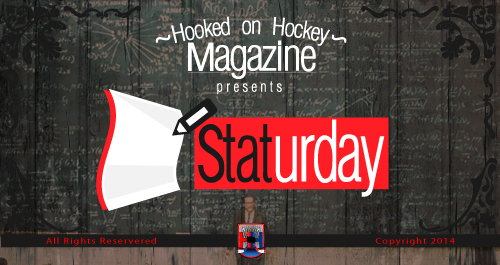 Well now my friends, the regular season is now over and playoffs are upon us. Inevitably, that means that we must begin our predictions for what will happen.
As has become tradition, I will peer into my dusty old crystal ball to see if I can accurately predict the first round of the playoffs, to provide you, the loyal reader, with a bit of entertainment at my expense when I'm dreadfully wrong (or eerily right?).
As I've been away for a couple weeks (between battling pneumonia and preparing for the LSAT), I'm taking the chance to have both a statistic peer into my predictions, as well as the regular editorializing. So, buckle up baby, we're going for a ride (bias only slightly not intended).
Eastern Conference:
EC1 – Tampa Bay Lightning vs. WC2 – Columbus Blue Jackets
Head-to-head record: 3-0 Tampa Bay (8-2, 4-0, 5-1)
The Tampa Bay Lightning are likely going to steamroll the Columbus Blue Jackets, which is unfortunate, because Blue Jackets GM Jarmo Kekalainen was the winner of the trade deadline big ticket acquisitions. I did see a stat (which I cannot locate) that the big acquisitions from Ottawa (Mark Stone in Vegas included) had the same amount of points as their replacements in Ottawa, so I suppose they've had a hard time in Columbus. The true value of this (brief) playoff series will be the soundbites we get from the greatest soundclip machine in the NHL: John Tortorella.
Key Players: Tampa Bay – Nikita Kucherov; the Blue Jackets will have to figure out how to contain the Art Ross winner, but Tampa is so deep offensively that focusing too much effort on Kucherov will leave them vulnerable elsewhere.
Columbus – Sergei Bobrovsky; goalie Bob is one of those players that can change the outcome of the game almost single-handedly, depending on whether or not he's dialed in. Bobrovsky was second in the league in wins (behind Tampa's Andrei Vasilevskiy), and first in the league with shutouts (9), so if the Blue Jackets are to steal a game or two from Tampa, Bob will be integral.
Prediction: 4-1 Tampa. Bob will come up big in one of the games, probably 3 or 4 after being shelled and the world receives yet another Torts soundclip for the ages.
EC2 – Washington Capitals vs. WC1 – Carolina Hurricanes
Head-to-head record: 4-0 Washington (6-5(SO), 3-1, 4-1, 3-2)
The defending Stanley Cup champions face a bunch of jerks, who are energized by their second playoff appearance since winning the cup in 2009. The younger, more promising Hurricanes have a hefty task ahead of them, as the Capitals look poised to make another deep playoff run, now that they've gotten the division finals monkey off their back (or maybe Penguin). In spite of their head-to-head record, the games between these two teams were closer than the final scorelines let on, with Carolina keeping pace with Washington's shot totals for most of their games, and getting quality chances.
Key Players: Washington – Braden Holtby; in all four wins against Carolina, the Capitals deployed Holtby, which means the Hurricanes will have plenty of video footage to prepare for him. It's up to Holtby to change his game up to keep the Hurricanes on their toes. It also helps they have Rocket Richard Trophy winner, Alex Ovechkin, in tow to fill the net if things go awry…
Carolina – Teuvo Teravainen; the 24-year old Finnish forward has the playoff experience from a cup run with Chicago in 2015 as a rookie, and in a roster rather thin on playoff experience, they'll be looking on Teuvo to put the puck past Holtby. Don't be surprised if fellow playoff veterans Justin Williams or Jordan Staal step up too, though, but they won't be as critical as Teravainen.
Prediction: 4-2 Washington. The Capitals tend to underestimate their first round pairings, with their last four first round playoff series going at least six games. They will want to dispatch the 'Canes early to be well-rested en route to Tampa, but they'll get careless a few times.
AT2 – Boston Bruins vs. AT3 – Toronto Maple Leafs
Head-to-head record: 3-1 Boston (5-1 BOS, 4-2 TOR, 6-3 BOS, 3-2 BOS)
The Toronto Maple Leafs face their playoff nemesis, the Boston Bruins; having nabbed the biggest free agent in the off-season, John Tavares, has been a leader in the dressing room, as well as statistically, posting up 88 points. The Bruins come into the playoffs having been cooled off a bit, but not as cool as the Toronto Maple Leafs. The Leafs come into the playoffs having won only 5 of their last 15 games, as they have sputtered into the playoffs, showing their lack of defensive depth. It should be an easier series for Boston, unless the Leafs decide they want to play again this season.
Key Players: Boston – Brad Marchand; the statistical leader for the Boston Bruins, as well as the most extraordinary pest currently playing in the NHL is integral to the success of the Bs. There are many other players that will factor in to what figures to be a Boston victory, but Marchand, as much as he's easy to hate, is a very talented player and a clutch performer.
Toronto – John Tavares; as much as Frederik Andersen's near injury scare came into play a few days ago, Tavares was brought in to increase the offensive firepower as well as to provide some leadership in the room. Tavares doesn't really have the best playoff record, having only ever won one playoff series in the past, but he's been a decent contributor with the Isles. As far as Tavares goes, the Leafs go.
Prediction: 4-1 Boston. The Leafs are simply too flimsy defensively to put up any sort of battle against the big bad Bruins. They vowed to be ready, and they will be, to the best of their ability, but it's simply not good enough. Not yet.
MET2 – New York Islanders vs. MET3 – Pittsburgh Penguins
Head-to-head record: 2-2 (6-3 NYI, 3-2(SO) NYI, 6-2 PIT, 2-1(SO) PIT)
The New York Islanders were an amazing surprise, as the loss of Tavares was supposed to be devastating for them as they languished at the bottom of the table. Not so; having brought in Lou Lamoriello as General Manager, and defending Stanley Cup Champion coach, Barry Trotz, the Islanders look like they belong in the playoffs, and though they don't have a player scoring over 70 points, they look poised to make some noise. Much has been written about the Penguins, and their extremely talented roster; however, this year they've been simply okay, as it appears they are in the downswing of their second golden era.
Key Players: New York – Matthew Barzal; the sophomore sensation leads the Islanders in points, and though the so-called sophomore slump has gotten to him (putting up 62 points to follow up an 85-point rookie campaign), his play has improved from last year. Look to him to try to make a splash in his playoff debut.
Pittsburgh – Sidney Crosby; who else but no-longer-the-Kid. He has quietly put together a 100-point season on an otherwise unremarkable Pittsburgh Penguins campaign. His leadership is invaluable to Pittsburgh, and he's riding a point streak going into the playoffs. Look for him to continue as the Penguins try to make another long playoff push.
Prediction: 4-3 Pittsburgh. Experience wins over in this one; Barry Trotz's Capitals' win over the Penguins proves to be a one-shot fluke as his team loses to the Penguins again. The Penguins set up another second-round meeting with the Capitals to continue their rivalry.
Western Conference:
WC1 – Calgary Flames vs. WC2 – Colorado Avalanche
Head-to-head record: 3-0 Calgary (3-2(OT), 6-5, 5-3)
Two high-flying, free-scoring teams face off against each other. This series should be much closer than the standings indicate; however, the Calgary Flames should eventually emerge victorious as they make a triumphant return to the playoffs from being missing last year and crashing out of the playoffs the year before. Colorado once again narrowly makes the playoffs to face the top seed in the Western Conference, and though the Avalanche have a lot of potential, they have been inconsistent this year, being just successful enough to hold off the Arizona Coyotes for the last playoff spot. The narrative of Gaudreau vs. MacKinnon is intriguing, and this series should be a lot of fun to watch.
Key Players: Calgary – Johnny Gaudreau; Johnny Hockey has to figure in if Calgary is to succeed. Though they've shown the depth necessary to make a deep playoff run, Gaudreau was essentially non-existent in Calgary's last playoff run, in which they lost to wild-card Anaheim Ducks.
Colorado – Nathan MacKinnon; the leading scorer for Colorado, and other son of Cole Harbour, Nova Scotia, MacKinnon is currently the player most responsible for shouldering the burden of offensively powering the Avs past the Flames, as Mikko Rantanen is currently injured and Gabriel Landeskog is not back to full health. MacKinnon appears to be up to the challenge, as in his past two playoff appearances, he has produced at a rate of at least a point per game.
Prediction: 4-2 Calgary. There are going to be a ton of high-scoring games, but the Flames are simply better. The Avs have not been consistent enough to get past the Flames.
WC2 – Nashville Predators vs. WC1 – Dallas Stars
Head-to-head record: 3-2 Nashville (5-4(OT) NSH, 2-0 DAL, 3-1 DAL, 3-2(OT) NSH, 5-3 NSH)
Last year's President Trophy champions face off against the Dallas Stars, who make their return to the playoffs after a two-year absence. The Predators claimed the crown of arguably the strongest division in the NHL, meaning that they've played a lot of hockey against a lot of very good teams; however, the Dallas Stars also come from the same division. The divisional rivalry will play into making this playoff series another first round stunner.
Key Players: Nashville – Pekka Rinne; the Predators goaltender has at times been the best he's ever been, and at times, the complete opposite. Rinne has been among the elite goaltenders in the league for quite some time, but he appears to be in the decline.
Dallas – Alexander Radulov; drafted by the Nashville Predators, Radulov played in Russia for a few years before returning. He proved to be a mostly successful experiment in his second comeback with the Montreal Canadiens, Radulov is looking more like the bona-fide NHL superstar that he was touted to be.
Prediction: 4-3 Dallas. I think the Stars have the offensive prowess to pull this one off and upset the Predators, two years removed from their Stanley Cup Run.
CE1 – Winnipeg Jets vs. CE2 – St. Louis Blues
Head-to-head record: 3-1 Winnipeg (5-1 WPG, 5-4(OT) WPG, 8-4 WPG, 1-0 STL)
Remember in November when the Blues fired head coach Mike Yeo? It appeared to be a write-off of a season, with the sputtering Blues at a 7-9-3 record and the Blues headed in the wrong direction. On the strength of a 12-1-1 February, the Blues appeared to be invincible for a while before cooling back down. The Jets, on the other hand, continue their consistency and look to improve upon their Conference Finals appearance last year; however, this time they would have to settle for second place in the Central as Laine has taken a step back and only produced 50 points.
Key Players: Winnipeg – Connor Hellebuyck; Hellebuyck is a busy goalie. He is tied for third for most starts by a goalie this season with 62, while posting 34 wins (good for 7th in the league). Hellebuyck has faced the most shots in the NHL, seeing just under one hundred more shots than the next busiest goalie, Freddie Andersen. It remains to be seen whether Hellebuyck can carry Winnipeg to the promised land.
St. Louis – Jordan Binnington; having wrestled the starting goalie position from Jake Allen, the rookie goalie has won 24 of his 30 starts this season, and posted the league's best GAA at 1.89 and five shutouts. It remains to be seen whether Binnington will be able to continue his success, or be like former Ottawa Senators sensation, Andrew Hammond, and fizzle out.
Prediction: 4-3 Winnipeg; yet another game 7. Binnington will carry the Blues far, but not far enough to overcome a well-rested Patrik Laine with something to prove.
PA2 – San Jose Sharks vs. PA3 – Vegas Golden Knights
Head-to-head record: 2-2 (6-0 VGK, 3-2 SJS, 7-3 VGK, 4-3(OT) SJS)
How can a new team defy the odds and find success right out of the gate? The Golden Knights set out to prove that they are not a fluke by building on their first season success, in which they made a shocking appearance at the Stanley Cup Finals before falling to the Washington Capitals. The San Jose Sharks are no slouches themselves, having traded for Erik Karlsson in the off-season. In theory, they have one of the most impressive defensive corps in the NHL; however, they struggled to find consistency throughout the season.
Key Players: San Jose – Brent Burns; the mighty beard has been a key part of the Sharks' roster for a few years, and this year he led the Sharks in points with 83. Burns' leadership is the key to the Sharks' cohesion, as it appears that Jumbo Joe Thornton is closing in on retirement at 39 years old.
Vegas – Marc-Andre Fleury; the Flower has been an elite goaltender for at least ten years. Having been plucked from the Pittsburgh Penguins in the expansion draft after losing his starting job to Matt Murray, there were questions about Fleury's viability as a starter, but he more than proved himself last year in the Golden Knights' cup run. Look to him to cement his legacy as an elite goalie.
Prediction: 4-2 Vegas; defying the odds yet again, Vegas will make at least a second round appearance this season. Karlsson will be a non-factor and Fleury will save the day.
Love Reading About Hockey?

Subscribe to keep up-to-date with the latest and most interesting hockey news!
| | |
| --- | --- |
| | We hate spam just as much as you |