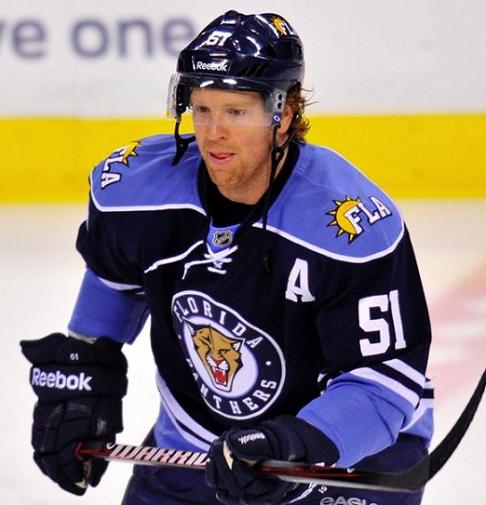 Alright, we're back to look at the Top 5 defensemen in the Southeast Division. We've already seen the forwards, and now we get to look at the defensemen tasked with stopping them. Unlike the Atlantic or the Northeast, we don't have any "bonafide" defensemen, but there are still some quality defenders. Let's start by looking at the guys that just missed the cut.
Honorable Mentions (in no particular order): Filip Kuba, Zach Bogosian, Joni Pitkanen, Eric Brewer, John Carlson
Filip Kuba had a career year last year in Ottawa, posting 6 goals, 32 points and a fantastic +26. Considering that Ottawa was only +9 as a team, Kuba's +/- is extremely impressive. Kuba has now relocated to the Florida Panthers and should provide a veteran presence for that team. Kuba blocks shots (149 last year) and can be counted on not to make too many defensive mistakes. Zach Bogosian is a guy that has always been up in the air. People have been waiting for him to take the big leap in his career but it still hasn't happened. Last year Bogosian did have a solid year, posting 5 goals and 30 points, but is still just not there yet. He is just 22 years old so hopefully he'll take a big leap for the Jets this year. Joni Pitkanen is another good offensive defenseman for the Hurricanes, possessing great skating ability and always delivering great breakout passes. However, having watched him play live a few times this year, I noticed that Pitkanen still gets caught pinching and having to recover late far too often. Maybe it was because Carolina lacked offensive firepower this past year and he felt inclined to join the rush, but this year will be the true test now that the Hurricanes are loaded. Pitkanen missed a significant portion of the season last year with a concussion and some knee trouble so we'll see how he bounces back this year. Eric Brewer of the Tampa Bay Lightning is a peculiar defensemen. Many expected him to be very good early in his career, but he never materialized into what people wanted him to be. Now, later in his career, Brewer has turned into a steady physical defenseman that can contribute a little bit offensively while still making opposing forwards have to earn their space on the ice. Brewer led the Lightning in ice time, hits, and was 2nd in blocked shots. Exactly what they want him to be. John Carlson is an interesting project for the Washington Capitals. Carlson has the prototypical size at 6'3″ 218 lbs, and is still developing into the type of defenseman he'll be. Carlson posted a career high 9 goals last year and also chipped in 23 assists. Carlson also was 2nd on the Capitals in ice time (21:51/game) and led the team in with 153 blocked shots. Carlson may soon find himself in the top 5, but for now, he's just a shade outside.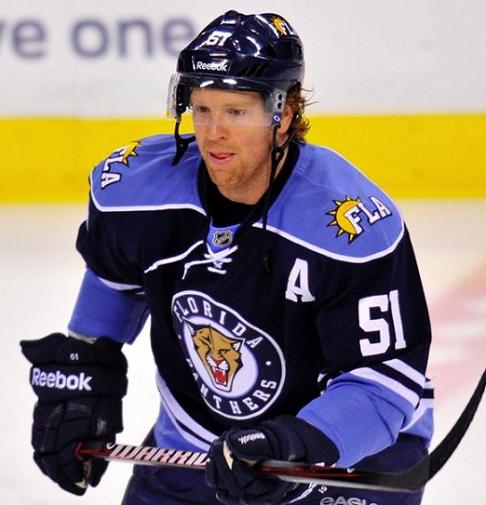 Now, let's move on to the guys that did crack the Top 5
5. Tobias Enstrom, Winnipeg Jets
Tobias Enstrom isn't going to outmuscle you, outhit you, or block shots with a reckless abandon. He's much closer to the typical Swedish defenseman – a strong skater, great puck-moving skills, and impeccable positioning. Enstrom is usually good for 40-50 points and about 24 minutes of ice time. Enstrom's skills allow him to be highly effective at even strength and on the powerplay. His breakout passes allow the Jets to start the offensive rush. Enstrom also is a leader for the young Jets, serving as the assistant captain and as the "old man" on the blue line. He's a valuable part of the Jets blue line and if he can return back to his form from 2010-2011, the Jets could be a real threat to make the playoffs.
Last Year: 6 goals – 27 assists – 33 points
Projection: 7 goals – 38 assists – 45 points
4. Mike Green, Washington Capitals
At the height of his powers a couple years back, Green was a great offensive defenseman, but not much more than that. Green would rack up points in bunches, but he would also get caught pinching far too often and was never really regarded as much of a "defenseman" in the literal sense of the term. Even though he garnered Norris Trophy consideration, he never beat out guys like Zdeno Chara and Nicklas Lidstrom, guys that point up big offensive numbers but also were absolute stalwarts on defense. In the last two years, Green has been sidetracked with injuries and has not looked like himself at all. After racking up 149 points in 143 in the 08-09 and 09-10 seasons, Green has only recorded 31 points in his last 81 games. Green finally seems to be healthy and has signed a 3 year $18.25 million extension, so hopefully that's a sign that he's ready to roll in this upcoming season. He's still only 26 years old, so we should hopefully see him return back to those big scoring numbers.
Last Year: 3 goals – 4 assists – 7 points
Projection: 9 goals – 37 assists – 46 points
3. Matt Carle, Tampa Bay Lightning
Matt Carle has always been a solid offensive defenseman and he is now bringing his talents to Tampa Bay. Carle isn't the kind of defenseman that will go into the corners and outmuscle you for the puck, but he's more than willing to sacrifice his body, leading the Flyers with 164 blocked shots. Carle is good for 40-50 points each year, 23 minutes of ice time, and good two-way play. He doesn't get beat defensively as often as a guy like Mike Green and that's why I'm more comfortable ranking Matt Carle as a better defenseman. However, there is still a lot of room for improvement with Carle's positioning. He is still just 27 years old and will now see his breakout passes going up to guys like Steven Stamkos and Martin St. Louis, so we might see his point totals spike a bit this year.
Last Year: 4 goals – 34 assists – 38 points
Projection: 6 goals – 36 assists – 42 points
2. Dustin Byfuglien, Winnipeg Jets
Yes, many of you will still point to some of Byfuglien's defensive inadequacies. Byfuglien still gets caught pinching, still gets caught out of position, and still gets beat 1-on-1 more than you would like from your top defenseman. However, we saw an improvement defensively in Byfuglien's game from 2010-2011. In 2010-2011, Byfuglien played the position like a 4th forward. Byfuglien attempted a ridiculous 491 shots (189 more shots than the 2nd player on his team) in 2010-2011 and missed the net an even more ridiculous 144 times. This past year, Byfuglien stayed at home more, decreased his shot numbers down to 351 attempts (still missed the net 128 times), and still kept his point numbers the same. He also cut down on the stupid penalties, dropping from 93 PIM to 72 PIM, and played almost a full minute more to lead his team in ice time (24:06/game). We are going to keep seeing improvements from Byfuglien defensively as he is a big boy and is still learning how to position himself properly. But he throws the hits (112) and still is one of the top 5 defensemen in the NHL in starting the offensive rush. A more familiar Byfuglien should be even better defensively this year.
Last Year: 12 goals – 41 assists – 53 points
Projection: 13 goals – 39 assists – 52 points
1. Brian Campbell, Florida Panthers
Brian Campbell was often forgotten when he suited up for the Chicago Blackhawks, getting lost behind Duncan Keith and Brent Seabrook. In Florida, Campbell finally got the chance to shine. Campbell competed with Senators defenseman Erik Karlsson for most of the season in the defenseman points race, while quarterbacking the Panthers into a surprising division title. Campbell finished the season with 4 goals, 49 assists, 53 points, and he won the Lady Byng Trophy for his gentlemanly play while still playing a high level. Campbell became the first defenseman to win the Lady Byng since Red Kelly in 1953-1954. Campbell does more than just score though for the Panthers. Campbell blocked 118 shots last year (3rd on his team), played an NHL-high 26:53 a game last year, and had just 6 PIM last year. Campbell also provided some veteran leadership for the Panthers and they were just a game away from knocking of the Stanley Cup Finalists New Jersey Devils in the 1st round. Campbell and the Panthers should be playoff contenders once again this year
Last Year: 4 goals – 49 assists – 53 points
Projection: 6 goals – 40 assists – 46 points
That's our top 5 defensemen in the Southeast division. We don't have the good solid defensive defensemen like we've seen in the other divisions, but we do have a plethora of good skating offensive defensemen and that's what you see here. Don't agree with us? Comment below!