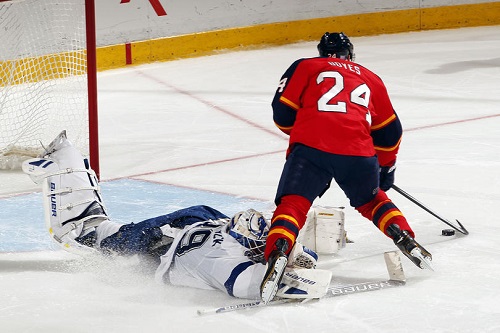 I understand that it's been beaten to the point of a maddening cliché, but when some wise guy (I'm gonna call him Bill) said that "defense wins championships", he meant it. And that other dude (let's make him Ted) who said something about consistency? He was on to something, too. And no one ANYWHERE could have predicted that they go hand-in-hand, fitting with each other like that Russian nesting doll your mom kept on top of the oven. It'd never work.
Well, it turns out that those guys were right. And it just so happens that they do, as the Florida Panthers discovered first-hand in their losing effort against the Tampa Bay Lightning Sunday evening. A high scoring affair, the game was ultimately decided in a shootout, where perennial cat-culler Steven Stamkos deked netminder Jacob Markstrom to the ice before coolly slotting home what would turn out to be the game-winning marker.
Both teams had their share of the flow of play, with the Lightning jumping out to an early lead. Taking advantage of an ill-advised Mike Weaver pinch, Ryan Malone managed to chip the puck off of a Panthers skater, leaving Stamkos and Martin St. Louis the task of beating Tom Gilbert on a two-on-one rush. In a flash (speaking of which, Tomas Fleischmann was-inexplicably-scratched from the Panthers lineup shortly after warm-ups), Stamkos' slap-pass was deflected to the back of the net by the diminutive St. Louis, giving the Panthers an early hill to climb. Not long after, the Bolts doubled their lead, when an unmarked Stamkos (here-on-out referred to as He Who Must Not Be Named) latched on to a massive rebound and snapped home his eighth of the year past Markstrom's outstretched glove.
The Panthers, however, soon found an answer, and cut their deficit in half via a relentless Shawn Matthias (HE'S OFF THE SCHNEID). But it took a third Lightning goal-an absolute Christmas gift of a power play goal for Radko Gudas (Everybody say 'Thank you, Mr. Weaver')-for a switch to be flipped in the Panthers' collective mind that said "Hey, something's wrong here". Trailing by two in the third period, young Nick Bjugstad redirected a long backhander from Scottie Upshall between the wickets of Lightning goaltender Anders Lindback, clawing the Cats back to within one. And out of the blue, Brad Boyes-who had been having a quiet game since his reactivation in place of Fleischmann-capitalized on an Ondrej Palat turnover, backhanding his shot by a sprawling Lindback. Just like that, it's 3-3. If this were the Heat, "fans" would've been banging on the doors of the BB&T Center, raising all hell to be let back in.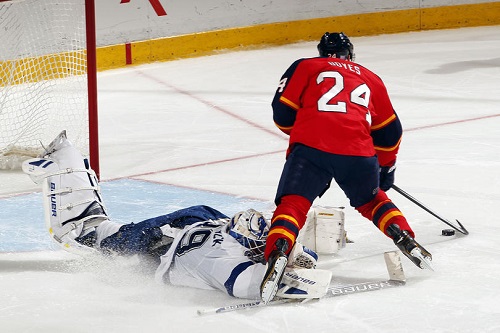 Treated to some extra hockey, the fans in Sunrise looked on as both teams traded chances, with both goalies standing tall (and you know I meant that one). Lo and behold, a shootout was forced, where the Lightning would emerge as the victors on the backs of tallies from Valtteri Filppula and He Who Must Not Be Named. Boyes also notched a goal in the third round to keep the Panthers' hopes afloat.
That's the recap- but just like my high school English teacher scribbled in red ink across my paper when she failed it, there has to be reasoning. A theme. A motif. Some sort of pattern that can explain this unique chain of events. Cue Bill and Ted ("excellent!").
The Panthers, for all of their comeback theatrics, essentially lost this game for themselves in the first forty minutes. While the Lightning almost gave credence to the two-goal lead's standing as "the most dangerous lead", part of the fault of this turnout rests squarely on the Panthers' defense's shoulders. You can't expect to win when surrendering two goals in the opening five minutes. You can't expect to win when you hang your goalie out to dry, leaving him to fend for himself on an odd-man rush against two of the best offensive players of their respective generations, forgetting to backcheck on arguably the most accurate sniper in all of hockey. And while I acknowledge that the offense has to generate sustained pressure in order to create legitimate scoring chances, how can you give them the best chance to do so when you can't effectively and efficiently move the puck out of the defensive zone? For the first half of the game, the Bolts brought two forwards in on the forecheck, and their presence was enough to almost eliminate the ability of the Panther's best offensive D-men to skate the puck out of the zone. And while they didn't make any ill-advised breakout passes through the slot (thank God for small favors), their ability to use angles and the boards to move the puck out of the zone was about as effective as my freshman year maneuvering of Geometry.
Furthermore, a trend of inconsistency once again reared its ugly head. Up until the end of the second period, the Cats played at a mediocre level for the majority of the frame, and then picked up the pace as time winded down. That doesn't work. Ever. Not in juniors. Not in the NHL. The quality of competition is TOO DAMN GOOD to attempt to overcompensate for a general lack of jump. The power play once again looked anemic, waiting until its third cameo to register a shot on goal. Things didn't fare much better at even strength; shots were being blocked left, right and center (led by the brick wall that is known as Gudas, until he was given a game misconduct for… yeah I'm not sure), the dump-and-chase wasn't working. The game was almost a wash. That is, until the third. In order to preserve their lead, the Bolts swapped to a more conservative forechecking system, allowing the beleaguered Cats defense to get that much needed extra second to read and react. Shots started to find their way through. The forwards began to catch up to those dumped in pucks. They got behind the defense. They threw shots on net. And by God, did they find their way through. Brian Campbell almost ended it in regulation, rifling a cannonade of a clapper from between the face-off dots off of the crossbar.
Momentum is a thing. I believe in it. The Panthers almost benefited from a full-scale swing of it, but when push comes to shove, the most consistent team will always come out on top. And unfortunately for the Cats, the Bolts had the better of play for longer stretches of the game. I understand that the Cats are young, that there will be growing pains that come with the adjustment of rookies and young players to the NHL. I recognize the need for patience in the midst of a transition.
But regardless of age, there is a necessity to bring the intensity of a game seven to every shift taken on the ice. Skate like the wind. Hit like Ali. Play like Jack Skille. But actually score too (Real talk though, he was one of my favorite players on the Cats before we let him walk. He was a bullet on skates, who bounced off of bodies like a pinball. THAT is a hard-nosed hockey player). Walk that fine line between controlled chaos and reckless abandon. Think like Kasparov. Play like Rudy.
Love Reading About Hockey?

Subscribe to keep up-to-date with the latest and most interesting hockey news!
| | |
| --- | --- |
| | We hate spam just as much as you |