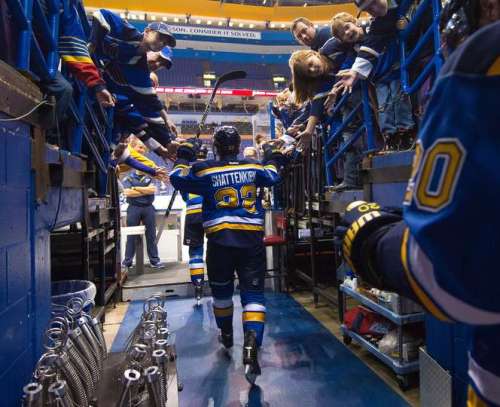 Last season, the St. Louis Blues met an abrupt end against the Chicago Blackhawks. The Blues were two games up when the momentum was lost and the series (and season) ended after a quick four games. Further, in the two season prior the Blues lost out against the L.A. Kings. Three years of "almost's" could easily bring a team down. But this league was not built from quitters and defeated attitude.
Coach Ken Hitchcock saw the last three years of potential Cup Playoffs as growth. His team has reached a maturity. Young bucks like Oshie and Steen are now seasoned players. They've been with the Blues, played in the recent Sochi Olympics and are now ready to lead their team. Team Captain David Backes and seasoned defensemen like Jackman and Pietrangelo are equally ready.
The Blues continue to work hard, perfecting their skills with the puck and each other. With several new faces from summer trades, new contracts and bringing up a few Chicago Wolves, their sense of camaraderie needs to be stronger than ever. And after a few preseason games, fans should be pumped and opposing teams should take notice. The St. Louis Blues are back and open for business.
Speaking of newbie Blue Notes, the senior players had a lot of positive feedback for them after their first few practices and preseason games. Like Paul Stastny. T.J. Oshie and Stastny played alongside each other in the recent Olympics for the United States. When asked about his new teammate, Oshie mentioned Paul was, "very smart, probably one of the smartest players I've played with in terms of reading and reacting."
Stastny had career highs in goals (21), assists (39), points (60) and plus-minus rating (plus-19) last season.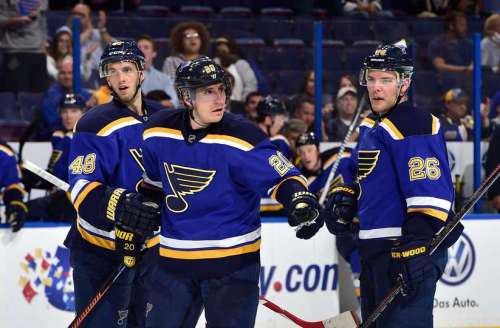 After Backes played with new Blues forward Jori Lehtera, he mentioned Lehtera's quick chemistry with fellow forward, Vladimir Tarasenko. "It's undeniable. I don't know if I've seen two players with that sort of instant chemistry on the ice."
After his preseason game against the Minnesota Wild, Lehtera weighed his playing almost average. He said he "started to play better and better," and that he was "getting used to the style." And yet it was clear even as he said the words he, "hates losing the game."
As far as the defensemen, the pairs are basically set, with new face Carl Gunnarsson teaming up with Kevin Shattenkirk. Coach Hitchcock has also announced that Ian Cole will have a bit of a coming out party this season. Paired with Barret Jackman, Cole has been with the Blues for four seasons, proving his skill and his ability to mature into a great team player.
The summer has also proved exciting for the Blues in the search for a solid starting goaltender. The Blues lucked out with two, Brian Elliott and Jake Allen. Elliott takes precedent in this case, assuming the role of starter, with Allen following closely behind him. Hitchcock mentioned this would be a competition-based season. Allen would see playing time, and he will need that time to prove he can be the goaltender the Blues need him to be; and as Allen said, "whether it's forty shots or fifteen shots, [I need to] keep the puck out of the net." After the game against Minnesota last week, Allen said he felt "solid and comfortable" on the ice. He's earned his place on the team nearly as much as Elliott.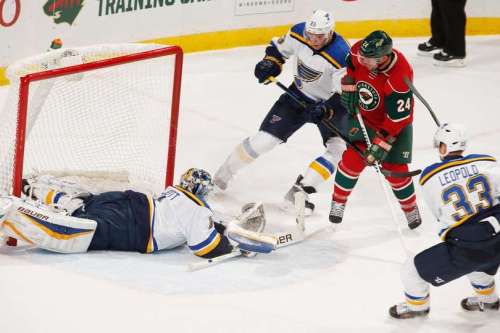 Hitchcock is confident with his team for the new season. He said it is a "hardworking lineup, with players working working at a level equal or better than the guys they're playing against." He also said their top ten guys are basically set; after that, he plans to see how their team builds in determination and energy levels.
Below is the projected lineup as listed by the St. Louis Blues:
PROJECTED LINEUP
FORWARDS
J. Schwartz – D. Backes – T.J. Oshie
A. Steen – P. Stastny – J. Lindstrom
P. Berglund – J. Lehtera – V. Tarasenko
S. Ott – M. Lapierre – R. Reaves
Extras: C. Porter, M. Paajarvi, D. Jaskin, P. Mueller
DEFENSEMEN
J. Bouwmeester – A. Pietrangelo
C. Gunnarsson – K. Shattenkirk
B. Jackman – I. Cole
Extra: J. Leopold
GOALIES
B. Elliott
J. Allen
Hitchcock went on to praise his players during the preseason games, saying, "it's impressive, it's professionalism. It's not bouncing-off-the-wall excitement. It's kind of like a workmanlike mentality…We've learned a lot the last three years and you can see it in the players' approach right now."
The Blues may not have won every preseason game, but their determination is obvious. The consistency of their veteran players plus the high energy the new men will bring to the game should prove to be a formidable team. Further the strengthening of the center, with players capable of moving the puck and a fortified net of their own, the St. Louis Blues are meant for the Stanley Cup Finals.
It's Our Year.