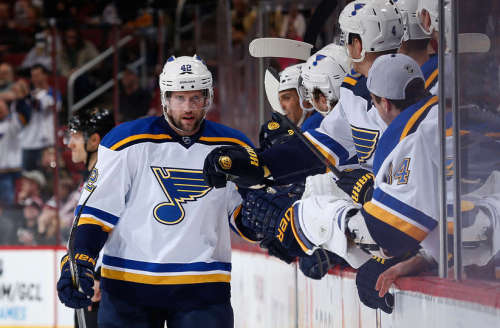 After an extremely difficult-to-watch two weeks from the St. Louis Blues, the team has finally come around. I don't think it's any coincidence that Schwartz's reactivation from IR brought the Blues back to life. That may be giving Schwartz a lot of credit, but the twenty-two year old left wing is a big player for the Blues. He's had four goals and three assists in his last five games. Chris Porter played well in Schwartz's absence, creating space for his guys to score and making smart hits.
T.J. Oshie shined in the last two games against San Jose and Arizona, recording his second career hat trick and a total of 10 points in the last five games. Oshie made the 1st Star of the Week by the NHL following his performance. But Oshie refused to take all the credit. He made a point of highlighting his Captain, David Backes' great assists. And he wasn't the only one to notice the team leader's play-making skills.
"He's creating so much space for us, it's unbelievable," Alexander Steen said. "He's been great. He does a lot of stuff that doesn't really get a lot of credit, but us boys, we know what he does."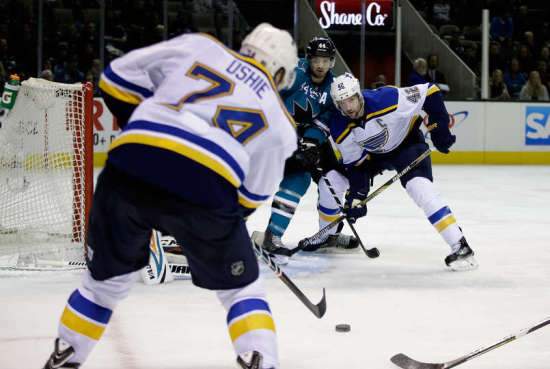 Oshie went on to predict that Backes would be next in line for the spotlight, and he was right. On January 6th David Backes scored his own hat trick, plus a fourth goal to push the Blues passed the Coyotes for a 6-0 win. With 6 hat tricks in the first 40 games, the Blues now have the most of any NHL team, and further the most by the St. Louis Blues since the 1984-85 season.
The Blues really need to keep this momentum going to get back on top for the remainder of the season. Ranked 8th overall and 3rd in their division, the team can use the hype of the last two games to bring in a renewed winning streak. Brian Elliott made twenty-three saves and recorded his second shutout of the season. With Elliott's return, the goaltender position is a bit crowded. Brodeur and Allen both have the ability to make great saves and produce wins. It will be interesting to see what Coach Ken Hitchcock decides to do with this new development.
The Tarasenko Show was last month, but this month the team comes together for hat tricks, great passes and a lot of momentum.