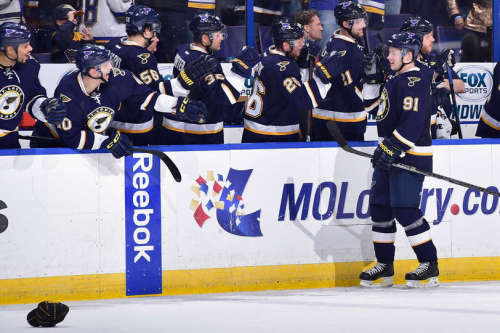 The St. Louis Blues, more often than not, push hard in the first two periods and fall short in the third. BUT NOT THIS TIME. And not lately. The Blues gave fans a real show against the L.A. Kings, beating them 5-2 after being down two goals. Halfway through the second period the Blues pushed hard and made beautiful passes. Jake Allen worked harder than ever to keep the Kings from scoring after their first two goals and succeeded with finesse. And while everyone is praising Tarasenko for his second hat tick of the season (OBVIOUSLY), this win was most definitely a team effort.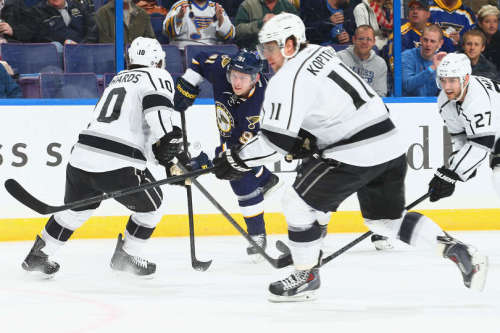 "It was time to sink or swim and our guys responded really well," David Backes said. "You don't come out of a 2-0 hole against the defending Stanley Cup champions too often."

Too true, Backes. The Kings play hard and fast to defend their title. Although their recent games have lacked their usual spark, the Blues still need to keep their skates sharpened for any new tricks. After their win against the Kings on Tuesday, Thursday could prove difficult. You know the Kings will be gunning for Tarasenko, (as most opposing teams do these days). But as lightening fast as the Russian native is, the Kings will have their work cut out for them.


And yet, if you watch the Blues goals from Tuesday night, Tarasenko's hat trick came from a few great passes.
Game Recap Shows St. Louis Blues Great Passes Make Great Goals
Shattenkirk's slap shot comes from a quick pass from Tarasenko, Tarasenko's goal comes from a great grab and go by Pietrangelo and so it went throughout the game. The team really connected, visualizing the plays and taking the momentum away from the Kings. This is the kind of game that shows the Blues belong in the playoffs. Even with the slow start, the Blues came out on top and proved to the Kings they were hungry for a win.
Tarasenko's First Hat Trick in St. Louis
And even after the hat trick, and one of the top scorers in the NHL this season (20 goals in 31 games) Tarasenko remains humble. (He even talks shop with his Gramps back in Russia after every game.)
"It's one game. Thanks for my linemates and my teammates to support me. It's really nice (to get) the first hat trick here in Scottrade. Thanks for the fans, too. It was unbelievable."
And not to be left out, Jake Allen played a great game, allowing only two goals and making 21 saves. He showed fans exactly what they expected from him, great goaltending. With all the hype about Martin Brodeur (which is awesome!), Jake Allen remains a beloved Blues goaltender.