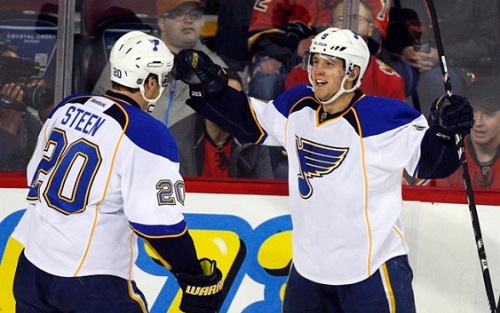 Scoring as a unit was no problem for the Blues in the 2013/14 season: they had five players who scored at least 50 points and seven who scored at least 40. But the scoring touch they had in the regular season seemingly disappeared in the playoffs, which played a big role in St. Louis' early exit.
The wingers are most at fault for this – simply because they outnumber the centers – so finding one, if not two elite wingers should be a key objective. So now the question is what direction to take with this current group of forwards: do they look within to find players to fill bigger roles, or do they look elsewhere for that type of player?
Alex Steen and T.J. Oshie each had great 2013/14 seasons – career years, in fact – but their future roles don't come without questions. Jaden Schwartz and Vladimir Tarasenko are two very young, but very promising forwards who each played their first full NHL season in 2013/14 and showed good signs.
But here are the issues:
– Steen: suffered a concussion this season – which could be a potential issue going forward, but had his best statistical season of his career. The issues are a) whether he can remain healthy, and b) if he can prove this past season wasn't a fluke
– Oshie: played 79 games and scored 60 points this season – the latter he had previously never accomplished in his career. His biggest issue is the fact (at 27 years old) he only has that one 60-point season, despite playing some of the most minutes on the team.
– Schwartz: basically was a hidden gem throughout the season. Having only played 52 games prior to this season, Schwartz was able to play 80 this season. In that time he put up 56 points – including an impressive 60 goals – and even notched a goal and two assists in six playoff games. The issue is his youth: Can he reproduce a similar season?
– Tarasenko: like Schwartz, also played a career high in games in 2013/14, but still missed 18 games due to injury. When he was in the lineup he made an impact – scoring 21 goals and 43 points. The 22-year-old also competed for Russia at the 2014 Sochi Olympics, which is a major accomplishment for such a young player. His issue is the same as Schwartz's: can he produce in the future similar to the way he did this season?
The good news for St. Louis is if it seeks out free agents the market is great on both wings. On the left side Matt Moulson and Thomas Vanek are two big targets, while Marian Gaborik and Ales Hemsky would be great fits on the right side.
Though none of the four players plays an explicit physical game, each could benefit from the physical, grinding style head coach Ken Hitchcock preaches. With line mates clearing space on the ice through hits and an aggressive fore check, that leaves more room for goal scorers to do what they do best and score.
If need be the team can throw some significant money at free agents to entice them, since they will be well under the cap next season. Money may not be enough to repair the reputation of late that the team can't win in the playoffs, but there's certainly no harm in trying.
But one thing is for sure: This team needs more than just depth up front. It needs a player who can take over a game and lead the team with his offensive ability. Where that player comes from is unknown at this point, but without him this team will continue to struggle.