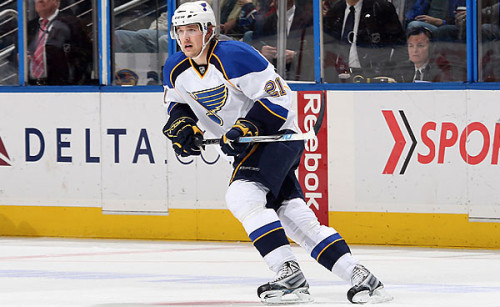 The Blues signed 26-year-old center Patrik Berglund – who has spent his entire career with St. Louis – to a three year, $11.1 million contract on June 26th. But while the contract provides job security to Berglund, it also allows for lots of speculation in the big picture.
The most intriguing aspect of Berglund's situation is the team opted to bring him back at all – despite his lack of fire power (he has 220 points in 436 games) – rather than let him test free agency. This lends itself to the speculation of Berglund's involvement in a trade around the draft.
His consistency in his role as the third line center as well as his (fairly) cap-friendly contract make him an intriguing target for teams looking to make a deal with the Blues. He wouldn't be the centerpiece of any deal St. Louis makes, but would be a well sought after piece as a complement to the main attractions.
Teams such as the Ottawa Senators and Vancouver Canucks would greatly benefit from adding Berglund. Each team is attempting to trade its respective number one center (Jason Spezza in Ottawa and Ryan Kesler in Vancouver), which means getting a center in return – especially one as established as Berglund – would be a bonus.
Plus, with Ottawa's or Vancouver's first line center spot vacant, that will allow the rest of the team's pivots the opportunity to move into bigger roles. While this is all speculation, it's safe to say Berglund's involvement in a trade would have bigger effects than just what appears on the surface.
And while it could be a stretch to suggest the signing of Berglund could lead to his role in a blockbuster trade, the timing of his signing is very interesting. Of course it could just be that Berglund's signing is just that – a free agent getting signed – but only time will tell if it turns into anything more.
Side note: With Berglund's signing that leaves Ryan Miller (who the team has already said won't be brought back), Carlo Colaiacovo, Brenden Morrow, Steve Ott and Derek Roy as the team's remaining unrestricted free agents, along with Jaden Schwartz and Vladimir Sobotka who are restricted free agents.