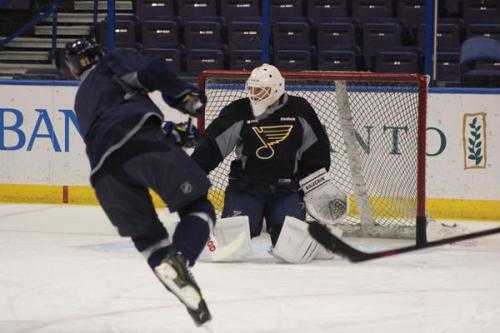 New Jersey Devils' fans and the St. Louis Blues collide as longtime Devils goaltender Martin Brodeur makes a test run for the Blues.
Last Tuesday, November 25, 2014 Brian Elliott sustained a lower-body injury, taking him out of the game in the second period. It was a difficult decision, and if you were watching the game, Elliott's displeasure was obvious as he slammed his stick against the wall and stalked off the ice. Jake Allen took Elliott's place for the remainder of the game, which is generally nothing to worry about. Unfortunately, Allen and the Blues could not recover from the hiccup and lost in a shootout to the Senators. It was a tough loss for the players and the fans.
Brian Elliott's injury is not considered serious (listed as week-to-week), but is enough to warrant the Blues' management team to make some emergency preparations. On Wednesday, the club recalled Jordan Binnington from the Chicago Wolves. Binnington may not be part of the solidarity that was Elliott and Allen, but as a backup his record holds. Binnington's 1.89 goals against average ranks third and his .925 save percentage is 12th in the AHL overall. Originally drafted by the Blues in 2011, Binnington has made nine appearance with the Wolves this season already, giving him a 6-2-1 record thus far.
And yet, St. Louis wasted no time making further contingency plans. Only a few hours after the announcement of Binnington's recall, GM Doug Armstrong announced that Martin Brodeur would be practicing with the Blues on Friday, November 28th. The practice is a test of sorts, not for Brodeur's skill level, but to see if the transition could work for the celebrated goalie and the Blues team.
Devils fans and Blues fans took to social media, voicing their opinions about the change. For most Jersey fans, it was strange. Brodeur was potentially planning to retire, and the Devils were happy to have him retire under their colors. At the same time, fans are supportive of Brodeur's choice to continue to play the game we all love so much.
Not only that, being a veteran of the NHL and a three-time Stanley Cup winner, Brodeur could not only get himself another title, but help the Blues get their first. Brodeur has a handful of records, including the NHL's all-time leader in regular season wins and the only goalie in NHL history with eight 40-win seasons.
At the ripe age of seven, Brodeur decided to pursue his dreams of playing hockey as a goaltender. Until that time, he had often played forward. But after that fateful year, Brodeur was a goaltender first and forever. In 1990, the year Blues goaltender Jake Allen was born, Martin Brodeur was drafted by the New Jersey Devils. He has played with the Devils for his entire NHL career. This is Brodeur's first time as an unrestricted free agent. He was quoted as being nervous, "for the first time in a long time;" saying that "things were always set for me. I just showed up. Now it's different. I'm looking forward to that experience."
"I didn't like the way things ended last year in New Jersey," Brodeur said. "Twenty years from now, at least now I'll be able to say I gave it my best to play one more year."
The tryout contract will not last long, and most likely a decision will be made early next week. Despite Brodeur's age, and slightly waning skill set, he is ready and willing to try something new. And as the Blues often do, they take risks. Sometimes they pay off, and sometimes they don't (Ryan Miller…). Old fans from the East Coast and new fans in the Midwest will just have to wait and see.
In the mean time, checkout some amazing plays made by Brodeur over the years.
https://www.youtube.com/watch?v=dFnxa3c4NDM
Love Reading About Hockey?

Subscribe to keep up-to-date with the latest and most interesting hockey news!
| | |
| --- | --- |
| | We hate spam just as much as you |