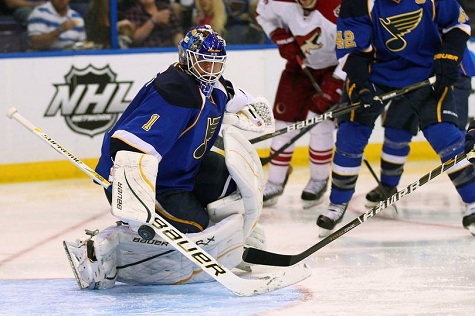 There's no question that when it comes to winning hockey teams, goaltending is the key. Winning was the theme running through the St. Louis Blues at the end of last season, with strong help from their goaltenders, who split Vezina honors. Coming off a strong regular season and disappointing playoff dropout, the Blues look to this season with the envied problem of having two outstanding goalies and needing only one to start.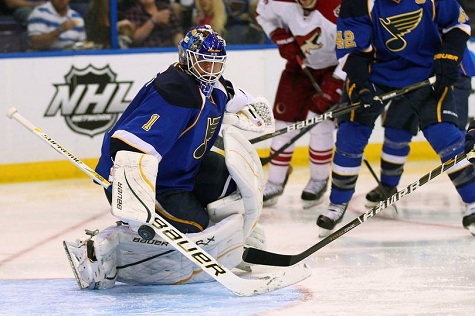 Just looking at last season alone, the obvious choice to start more often would be Brian Elliott. Although he only started in 38 games last season, compared to Jaroslav Halak's 46, Elliott put up a stronger save percentage at .940. Halak's percentage was at .926. Having both goalies with save percentages over 90 percent is one of St. Louis' biggest strengths.
Elliott put up 23 wins last season, with nine shutouts and only ten losses. He faced 972 shots and had let in 1.56 goals against.Compare that to Halak who helped the Blues put 26 wins in the record books, six of which as shutouts, while giving up 12 losses. Halak faced more shots (1,211) than Elliott as he started more games, which also gave him a higher goals against average of 1.97. What causes Blues fans a moment of pause and reflection is what happened in the post season with the Blues goalies.
While Halak started more games and faced more shots in the regular season, the coin was flipped in the playoffs with Elliott taking more of the nods. Elliott started in eight games, although four of them were losses. He had a .904 save percentage in the post-season off of 187 total shots. Halak only started in two playoff games last season for the Blues and split them evenly with a win and a loss each. His save percentage of .935 was off of 46 shots.
When comparing career totals, Halak has more experience in the form of about 25 more games, and a slightly higher save percentage of .918, as opposed to Elliott's percentage of .909. Halak also has the edge over Elliott across minutes played as well as wins.
While the regular season belonged to Halak and the post-season seemed to belong to Elliott, the Blues are in place to have one of the strongest goaltending systems in the NHL.
This upcoming season, look for the time to be split between the two fairly evenly. Elliott proved himself in the post-season last year and new coach Ken Hitchcock has a history of trusting the goalies who set out to prove they belong. Elliott did just that. However, Halak has experience in the NHL and has put up big numbers while there. That's no fluke. Halak can perform when asked and carry the team when needed.
For what it's worth in St. Louis, the fans have responded positively to both, as is expected as St. Louis fans trust winners and don't wait around long for players who crack under stress.
A young group of goal scorers up front and experience on the blue line will help keep the puck out of Elliott and Halak's end long enough, but both can stand on their own when pressured.