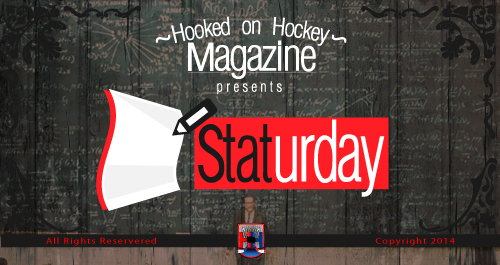 First and foremost, I absolutely shanked half of that; a fact that I will remind you of again when I do the World Juniors recap.
At the time of the writing of this article, a bunch of my fellow Canadian buddies and I are heartbroken after a hard loss to Finland, resulting in a 6th place finish on home soil and the first time ever Canada has stayed home — empty-handed no less.
As a way to console my fellow Canuckleheads, I've compiled a list of all the most amazing things Canadians have done over the years in the World Junior Hockey Championships, and as it is Saturday, we will focus on the statistical superlatives. Amazing plays need not apply, just feats of incredible statistical production.
The World Junior Hockey Championship officially got its start in 1977, meaning that the tournament ending later today would see its 43rd edition come to a close. Since then, Canadians have pretty well dominated the tournament, holding these records:
17 – Most gold medals won by a country (followed closely by Soviet Union / CIS / Russian Federation's 13). Note that this is not to be confused with most medals overall, which Russia is leading by four medals (35 to Canada's 31) at the time of writing of this, and likely will go for a 36th later today.
5 – Most championships won in a row, done twice between 1993-1997 and between 2005-2009. Next closest record was the Soviet Union with four in a row between the tournament's official beginning in 1977-1980.
In keeping with Canadian customs, it is polite to acknowledge that before we go patting ourselves in the back for how awesome we are, it is important to mention that we do not house the best ever World Juniors players. While Jordan Eberle may have been captain clutch in 2009, and there may be a plethora of memorable moments ingrained into Canadian hockey mythology, Canadians are curiously absent from the "best of" categories.
Take for instance, the all-time world junior points leader is not a Canadian, but this Swedish legend:
If she doesn't recognize him, she's too young for you, man.
Peter Forsberg, — no relation to current NHLer Filip Forsberg; also known as Peter the Great, or Foppa, put up a whopping 42 points in 14 games, producing at a rate of 3 points per game, surpassing even Wayne Gretzky's 2.83 points per game production. His highlight was a ludicrous 31 points in the 1993 World Juniors (won by Canada, ha ha). That performance, together with fellow Swede, Markus Naslund, would secure Foppa and Naslund's entry into the record books and a silver medal for Sweden. Naslund would go on to score 13 goals. Both of these records appear fairly safe, though, as the format consisted of an all-out round robin with no elimination round, not to mention an absolute demolition of Japan by a score of 20-1 from the Swedes in that tournament, but I digress.
Despite Naslund's single-tournament record of 13 goals, he is not the all-time top scorer for the World Juniors. That honour belongs to another international all-time great who also played for the Vancouver Canucks: Pavel Bure. The Russian Rocket found the back of the net 27 times in all his World Junior appearances… You'd have to go all the way to #17 to find the nearest Canadian (previously-highlighted captain clutch, Jordan Eberle).
Now for a bit of trivia; the tournament's all-time leading goals per game percentage player? Soviet player, Herman Volgin; who participated in the 1983 edition and scored 11 goals in 7 games, for a goals per game percentage of 1.571, narrowly beating Markus Naslund's 1.500.
Herman Volgin pictured here, presumably. No direct photos readily available.
Now, you may be saying to yourself "well, offense is only part of the tournament. Surely, Canada had some of the greatest goalies to ever play the World Juniors."
While you may not be wrong, and some outstanding Canadian goalies have gone on to showcase in the World Junior tournament, I present to you, Marc-Andre Fleury. (two links to illustrate my point). I rest my case. I'll leave you with a positive for Fleury, I promise.
Sorry, Flower. I still love you. Pittsburgh misses you!
Statistically speaking, the best GAA was posted by Russian Florida Panthers prospect (1997-98) Denis Khlopotnov, posting a GAA of 1.00, with 10 games played. This GAA is matched by once highly touted Toronto Maple Leafs and current Rogle BK goalie, Justin Pogge (who only played 6 games).
Canadians do establish their dominance when it comes to tournament Save Percentage, with Carey Price leading the record books at 0.961 save percentage with 6 games played, followed by Manny Lagace's 0.955 with 6 games played as well.
In terms of shutouts, Jaroslav Halak leads all goalies with 4, having played in two editions (2004-05) and playing a total of 12 games.
Curiously, Marc-Andre Fleury shares the co-lead for most assists by a goalie in the World Junior tournament, with 2. A record also shared by Henrik Lundqvist, Joni Ortio, John Gibson, and Latvian Janis Kalnins. See? The Flower is not all that bad!
Please stay tuned for a recap of the knockout phase and to see how horribly awry my predictions went!
Love Reading About Hockey?

Subscribe to keep up-to-date with the latest and most interesting hockey news!
| | |
| --- | --- |
| | We hate spam just as much as you |