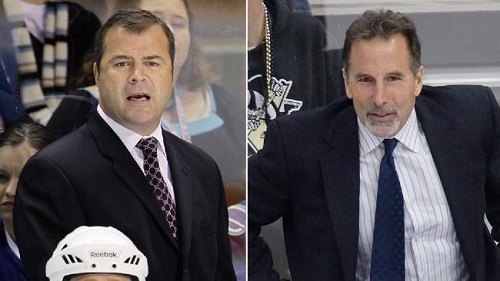 Typing 2013-14 is really strange…weren't we were all supposed to be dead by now? Anyway, as we FINALLY become 25 days away from the start of the regular season (or even nine days away from the preseason, if you're into that), we can actually start to get excited about hockey – a full season of NHL hockey – and not feel disappointed/angry/vengeful after checking the calendar or seeing one of those images with player jersey numbers photos with the days left. With the new CBA forcing teams to transform their rosters to accommodate the lower salary cap, and with the crazy realignment, there should be a few stories (other than the race for that giant silver cup thing) that will be fun to watch play out this upcoming season.
Realignment
The most noteworthy event of the offseason was, obviously, realignment. There's a lot going on here, and a lot of questions. As a whole, will it be a better/worse system than the previous of six divisions of five teams, which includes moving some teams to a more appropriate time zone? Will new rivalries be created, and will they actually be interesting (and will the NHL market them that way)? How will playoff races piece together; will a crappy team in the West make the playoffs over a mediocre team in the East because there's a higher chance to make it in the West (58% of teams in the West make the playoffs as opposed to 50% in the East), and will teams/fans of those East teams complain about it? (Spoiler: they will.) And my favorite aspect of realignment is, and you can keep a scoreboard throughout the season, how many times will announcers/commentators/analysts and fans confuse the Atlantic Division for the Metropolitan Division, since all five teams from the previous Atlantic over the past decade have been moved to the Metro? (And only two of the teams in the new Atlantic actually sit near the Atlantic Ocean.) Could they really not have come up with less-perplexing division names?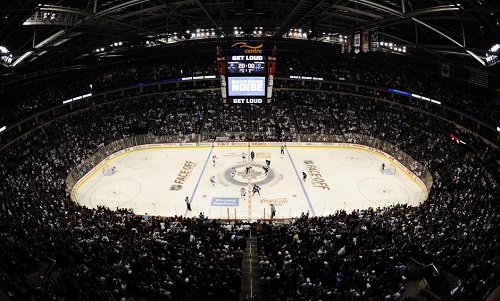 Will the Jets be better?
The biggest point of this interesting realignment was to accommodate the Jets, a team that's located in Winnipeg (central Canada) but was playing teams that were almost all along the East Coast (because of the move from Atlanta) – a ridiculously unfair advantage. Renowned for their loud building and home-ice advantage, let's see if the Jets will have a breakout season and make the playoffs (especially with their better odds now in the West), or if the harsh travel schedule was just another excuse.
Players' return to former teams
Continuing with realignment, it will be fun seeing the reception certain players receive, some of whom were bought out or traded because of their former teams trying to work the cap, or players that bailed on old teams for other reasons. The biggest one to look out for is how will new Red Wing Daniel Alfredsson be received by Senators fans after bailing on the team he played on for 17 seasons to join a team that he claimed as having a better chance to win? (He returns to Ottawa Dec. 1.) Other notable returnees are Vincent Lecavalier (Flyers) returning to Tampa Bay (Nov. 27), Rick Nash (Rangers) returning to Columbus (Nov. 7), Tyler Seguin (Stars) returning to Boston (Nov. 5) and, my favorite, Zach Parise's (Wild) return to New Jersey (March 20). Additionally, watch to see how those players fare on their new teams, along with several other big names such as (all traded): Cory Schneider (Devils), Jonathan Bernier (Leafs), Mark Streit (Flyers), Bobby Ryan (Senators), and Loui Eriksson (Bruins).
Rangers/Canucks coaching swap
The most fascinating storyline (I might be biased as a Rangers fan) is the unexpected coaching "trade" between the Vancouver Canucks and New York Rangers. Not unexpected in terms of Alain Vigneault and John Tortorella getting the boot, because, let's face it, it's about time, but it's very interesting that the diverse coaches swapped positions from two very different teams. On one side, you have the Canucks, a team often criticized for its soft play and lack of toughness (especially in the playoffs), and on the other, you have the Rangers, a team criticized for its ability to accomplish the most basic and necessary component in all of hockey: scoring a goal. Each team's respective coach is generally viewed as having fortitude in his new team's weakness. Will Torts be able to preach tough defensive play to a team full of skilled, offensive-minded players, and convince the Sedins to dive in front of shots? Will AV be able to teach scoring to a team that's spent the past two years diving in front of any object going towards Henrik Lundqvist (on and off the ice, one presumes) and bring in a decent power play? And most importantly, will they be successful? Tortorella and the Canucks return to Madison Square Garden November 30.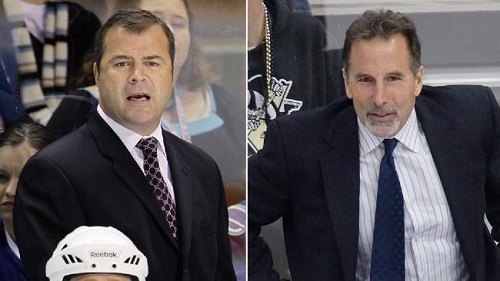 The Winter Olympics
Thankfully, the NHL agreed to allow its players to participate in the Winter Olympics. Aside from the obvious as to who's going to win the Gold, the storyline here is seeing how, if at all, the Olympics affects individual player performances and their teams. Any catastrophic event in the global contest, such as Sidney Crosby having his head taken off, could mean a 2018 NHL player ban from the competition.
Phoenix/Arizona Coyotes saga
Now the Arizona Coyotes since they finally have an owner, have they reached the end of an ongoing and obnoxious saga of relocation speculation and bankruptcy, or will a new tale arise in the midst of the franchise's financial issues? Team success is going to be crucial over the next few years.
Iginla
There are two parts here: The first being that, after requesting/being awarded a trade last year from a failing Flames team (with whom he spent his entire 18-year career) to a contender, can one of the most respected players in the league finally win his first Cup? And the second part, which might be more intriguing, is whether or not he'll have success in Boston, with whom he recently signed a one-year deal. As every Bruins fan will let you know, Iginla was bound for Boston last year at the trade deadline, but Calgary GM Jay Feaster jumped the PR gun too soon and Iginla, who got to choose what team he went to because of his no-trade clause, picked Pittsburgh instead. The Bruins humiliated the Penguins in the Eastern Conference Finals, sweeping the series and allowing just two goals. Now, Iginla will have to prove his worth and rectify his "mistake," which could have led Boston's second Cup in three years instead of Chicago's second in four had he chosen differently. It'll be interesting to see, if he doesn't win the Cup, if he can at least win over the fans.
Goalie pad size reduction
One of the best rule changes was reducing the size of goalie pads (no official numbers yet, but rumors are that they'll shrink pads by about 10-15 percent). Previously, because pads were so massive, goaltenders were able to take away the majority of the net by getting down in that butterfly, staying deep in the crease, and covering the low areas of the net, which are the easiest places to get the puck as the offensive team. And that was the carbon copy for a successful goalie (see: Henrik Lundqvist, Tuukka Rask, Mike Smith in 2012) or turning a weak goalie into a mediocre one. Now, goalies are going to have to work to make saves. Why is that good for the NHL? Well, for one, there's going to be more scoring without significantly changing the rules of the game, such as increasing the size of the net, making two-minute minors always two minutes long even if a goal is scored with the man advantage, or adding a multi-puck rule whenever Raffi Torres hits someone in the head (that'd be a lot of pucks). Additionally, smaller pads means less bulk, meaning more agile goalies, which will lead to more epic saves and crazier plays. Both those results will make the NHL more marketable.
Columbus Blue Jackets
The Columbus Blue Jackets are no longer the joke of the league. Expect them to be in many serious discussions, rather than "Who are the Blue Jackets?" or "What's a Blue Jacket?" (it's a Union/North soldier during the American Civil War, hence the patriotic themed jersey/logos) or "Why are the Blue Jackets so terrible?" After moving Rick Nash for depth (Brandon Dubinsky, Artem Anisimov, Tim Erixon, and a first-rounder) and acquiring Marian Gaborik last year in exchange for spare parts (Derick Brassard, John Moore and Derick Dorsett), and now signing sniper/power forward Nathan Horton to the max of an seven-year deal ($5.3M per year), it seems the Blue Jackets are (finally) ready to do what it takes to win, which, hopefully for them, includes the franchise's first playoff win (currently 0-4).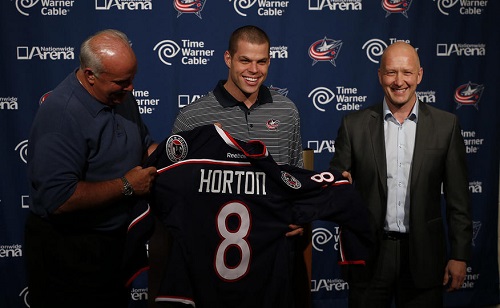 The Leafs, David Clarkson
The general consensus around the league is that the Leafs made the worst signing of the year (an accolade usually awarded to GM Glen Sather of the Rangers) by giving David Clarkson a seven-year deal with a cap hit of $5.25M. It does seem like a bit much for a 20-goal scorer (especially compared to Horton, who got almost the exact same deal). But who knows, maybe he'll fit into the team and feed off some of the Leafs, uh, talent. After qualifying for the playoffs last year for the first time in eight years, Toronto almost beat the Bruins in the first round ("It was 4-1!"), the team that won the East; let's see if they can win a round.
Philly goaltending circus
One of everyone's favorite topics each year: how much of a mess is the Flyers goaltending situation going to be? They bought out Mr. Universe (still unsigned) after he was expected to be the savior in net the team hasn't had since Ron Hextall, and currently their options are Steve Mason, who's had only one winning season if you include overtime losses (although he played for the CBJ his entire career), and Ray Emery, who is still a giant question mark (his numbers were just a bit inflated last year playing for the championship, record-setting Hawks). Will they need to acquire a new goalie midway through the season? Probably. I think a certain first-overall pick from 2000 is available…
Diving?
While not necessarily something that's expected to be a talking point or to be changed, it will be really interesting to see if the league does anything to curb diving/embellishing, which seems to become more prominent every year. It's beginning to put a huge black mark on the game, and, worst of all, hockey fans obsessed with bashing soccer for its diving and injury faking are finding it more and more difficult to harass soccer enthusiasts for their sport's "wussy" players.
Any other major story lines that I missed? Something that doesn't belong here? Embarrassing factual inaccuracy such as claiming that the NBA Grizzlies still play in Vancouver? Let us know! Feel free to comment with things fans should watch out for in the 2013-14 season, or to tell me how great or awful I am.