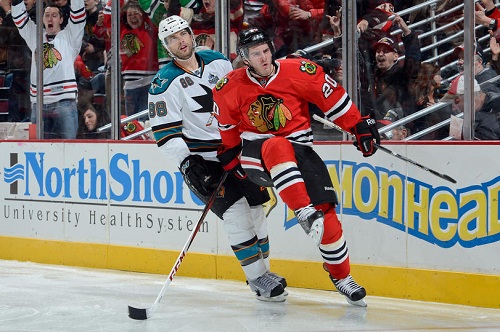 If you are a fan of the San Jose Sharks, February has not been kind to you. Before Friday's contest against the Chicago Blackhawks the struggling Sharks had only won one game out of their last eight. On top of it, the Sharks had to make their way to a rowdy United Center, and face a Blackhawks team who was yet to lose in regulation, and was one win away from a record. The game between the surging team, and the struggling team was bound to be a good one.
The first period was a very even period with back and forth action. Ray Emery was in net for Chicago, as Corey Crawford is day-to-day with an injury, and former Blackhawk Antti Niemi was in net for the Sharks. With about 15 seconds left in the period, Patrick Marleau, who had cooled down since his hot start at the beginning of the season, lit the lamp with a trickle in goal. With that, the Sharks went into the first intermission feeling good about themselves, and were ready to work off of the lead.
The second period was almost as even as the first. The Blackhawks started to wake up, and were moving their legs a little bit faster. On the other hand, the Sharks did not adjust, and with 3:20 left in the period, Viktor Stalberg scored to tie the game up. After that goal, the Sharks were not the same team that they were in the early phases of the game. The rest of the period concluded with no more damage, but the third period would be different.
The third period was heavily dominated by the Blackhawks, and that was proven early by rookie Brandon Saad. With three seconds left on a Sharks power play, Saad scored a shorthanded goal, which would be the only goal scored that period. Unlike the four powerplays the Sharks had in a row, goals did not come to them very easily.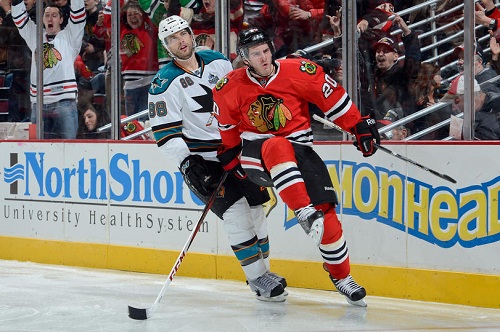 One major issue that has been haunting the Sharks is their power play. After starting the season with a 37.5% conversion rate, the last 11 games have been less that impressive, with only a 4.5% conversion rate. Another intriguing fact is that in their 5 one-goal losses, the Sharks are 1 for 25 on the power play. This shows that if the power play can be worked on, these one-goal losses could be turned into wins.
The Sharks are back at it tonight when they face the Dallas Stars. Hopefully the Sharks have better luck tonight, and are able to start a new winning streak.