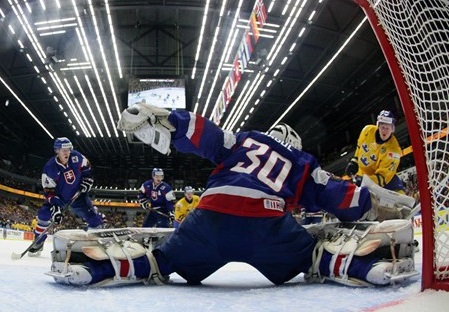 Oh how Swede it is. Swede ya later Slovakia. Okay that's enough bad word play. The host nation sent Slovakia packing Thursday, continuing its unbeaten streak by defeating the Slovaks 6-0 in the quarterfinal round. Filip Forsberg continued his fantastic form with four points in the game, Elias Lindholm also shined with four points as well. Slovakia was the obvious underdogs in the match-up, losing all but one of it preliminary games (the only victory was against now relegated Germany). However, Slovakia came into the game with the best top line in the tournament of David Griger, Milan Kolena, and Martin Reway. They were three of the top five scorers in the tournament, scoring a combined 28 points in four games.
Sweden's six goals were scored by only four of its players. The captain Forsberg had two goals and two assists, Lindholm had a goal and three assists, Lucas Wallmark scored two goals, and Jacob de la Rose finished it off with one.
Sweden's first goal came at 11:58, two Slovakian defenders got crossed up and Wallmark took advantage. He entered the zone and in all alone on Slovakian goaltender Richard Sabol, while showing off his quick hands he deked Sabol finishing with a short side forehand goal. Wallmark's chance came moments after Andre Burakowski ringed a shot off the post.
Lindholm got his goal with 1:21 left in the first period, with Sweden on the powerplay. Forsberg found Lindholm on the doorstep, hit Elias with a nasty saucer pass, and Lindholm did the rest by wrapping it around passed Sabol's skate.
Forsberg scored his first goal on a rocket of a one timer from the circle while Sweden had the man advantage. Filip's shot beat Sabol short side, but there was little that any goalie could have done to stop the shot from finding twine. Sweden led 3-0 with 18:50 left to play in the second frame.
Sweden's fourth goal came from Wallmark again with 6:39 left in the second. It was one of those right place at the right time goal, Wallmark collected the puck lost by Nick Sorensen, and one timed it short side against Sabol.
Oscar Dansk showed his class late in the second period when Sweden gave up a long 2-man advantage to Slovakia. His first shut out of the tournament was not to be spoiled as Sweden killed off the penalties without conceding.
Sweden's last two goals came in the third period when the game was all but over. Forsberg scored his second on a wrist shot that beat Sabol to his glove side, and Jacob de la Rose scored on a rebound shot while on the man advantage.
Sweden will face Russia in the semi-finals, Sweden won the preliminary round match-up 3-2 and Saturday's game should be similar. This will be the eighth year Sweden will play for a medal, the latest two being gold (2012) and silver (2013).