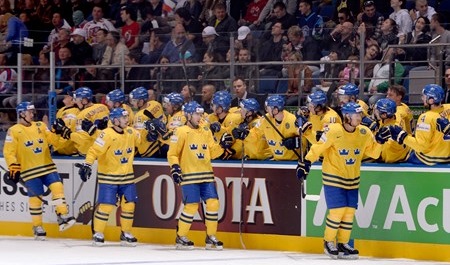 A rough start for the Swedes against a tough Czech squad didn't end up hurting the end result as Sweden was able to come away with a 4-3 shootout win.
Things didn't start out so well for Sweden: There wasn't even enough time for the players to settle in on the bench before Tomas Hertl found the back of the net for the opposition eight seconds in.
Hertl's early goal seemed to rattle the Swedes as they were called for a too many men penalty just over a minute later. Fortunately for them they were able to kill it off and still trailed by just one goal early on.
That early kill turned out to be big for Sweden because Oscar Moller was able to tie things up with a goal at 11:56 of the period. Drawing an assist on the goal was Mikael Backlund who had two goals in a 3-0 win a day earlier.
Just minutes after the goal, Sweden had a chance to take the lead on a power play, but was unable to capitalize. The Czechs then used the momentum from that kill as Jiri Hudler scored on a power play with 25 second left in the period to give his team a 2-1 lead heading into the intermission.
Things didn't get much better in the second period, either. The Swedes didn't surrender a goal in the first half of the period – even after taking an early penalty – but Martin Zatovic broke through again for the Czech Republic around the mid-way point of the period to give his team a 3-1 lead.
The situation for Sweden did improve, however, thanks to Moller's second goal of the game with under four minutes to play in the period. The timeliness of Moller's goal gave the team at least a chance of getting things tied up in the third – something that would have been much tougher to do if trailing by two goals.
And they did just that thanks to the continued undisciplined play of the Czechs. After staying out of the box for nearly half of the period, Jakub Petruzalek took the fourth Czech penalty of the game, which led to a Joakim Lindstrom goal – relinquishing the two goal lead they once held.
After a scoreless overtime period, Sweden completed the comeback win in a shootout thanks to Joakim Lindstrom's goal to take the game by a final score of 4-3. The win only counts for two points – given it was an OT win – but is still enough to put Sweden in second place in Group A: one point ahead of Canada, and one point behind Norway.
The Swedes will have a day off before getting back in action against Group A-leading Norway May 13th.