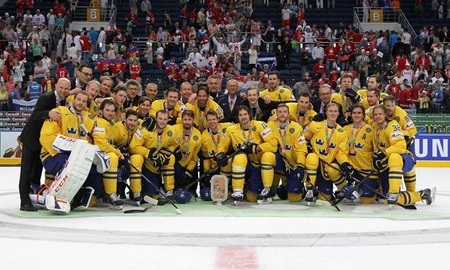 It wasn't the medal they were hoping to receive, but the Swedes were still able to come away from this year's World Championship with a bronze medal after beating the Czech Republic. But if not for some tough luck for the Czechs the result could have been much different.
But the Swedes did help themselves out with a great start: a goal by the team's leading scorer Joakim Lindstrom at 4:28 of the first period gave the team a 1-0 lead. That was followed by another Swedish goal – this time from Simon Hjalmarsson – almost 10 minutes later that gave them a 2-0 lead at the intermission – this despite the Czechs outshooting Sweden 11-7.
The second period was when the hockey gods appeared to be heavily favouring the Swedish team. The Swedes took five penalties – twice accompanied by a Czech player to make it 4-on-4 – but the Czech Republic couldn't capitalize on any of its power play opportunities. When all was said and done it was the Czechs holding a 23-15 advantage in shots through two periods with nothing to show for it.
Things didn't get much better for the Czech Republic in the third. To start, Jaromir Jagr took a hooking penalty two minutes into the period, but Sweden was unable to capitalize. But minutes after the penalty Mikael Backlund all but sealed up the bronze medal for Sweden with a goal of his own – assisted by Joakim Lindstrom – to give his team a 3-0 lead.
That was all the offense Anders Nilsson needed as he stopped all 29 Czech Republic shots he faced to get the shutout and win the bronze medal. Nilsson was stellar all tournament – starting all but one game – and finishing with a 92.82 save percentage, as well as a 1.73 GAA.
The team will now head into next year's World Championship in the Czech Republic looking to medal for a third consecutive year.