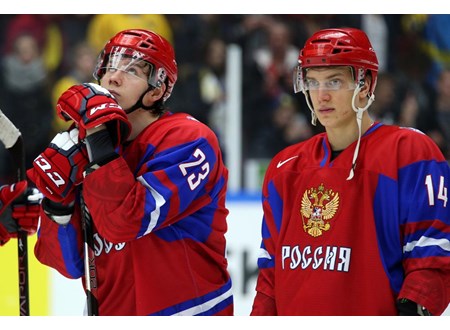 In this heavyweight match-up between two powerhouse teams, the Scandinavian contingent out-muscled their Russian counterparts by a total score of three goals to two. Victory, however, would not come easy for team Sweden; in spite of jumping out to an early two goal lead, Russia fought back, peppering the Swedish penalty kill and knotting the game up at two apiece. With both teams grinding for a win, Sweden would go on to tally the deciding marker, the honors on the tape of Jacob De La Rose's stick. Tending goal for the Swedes, Columbus Blue Jackets' prospect Oscar Dansk denied 23 of 25 shots, turning in a .920 save percentage after his 60 minutes of work. On the flip side of the same coin, Andrei Vasilevski faced 32 attempts, successfully absorbing 29.
The tilt would open with fireworks befit of New Year's Eve, with Andreas Johnson wasting no time in lighting up the lamp. Following a slick move by Montreal Canadiens' second-round pick Sebastian Collberg, Johnson would fire home from the hashmarks, beating Vasilevski blocker side for a power play goal. Not to be outdone, Nick Sorensen finished a lovely passing play from Lucas Wallmark and Andre Burakowsky, potting his second goal of the tournament.
The Russians would answer with two unanswered goals of their own, coming in the form of power play markers from Alexander Barbanov and Mikhail Grigorenko. Barbanov, deflecting a Vyascheslav Osnovin feed, halved the deficit; Grigorenko would strike second, pouncing on a fanned Pavel Buchnevich one-timer to finish from point-blank range. Ilya Lyubushkin and Anton Slepyshev notched hockey assists on their respective goals, Lyubushkin's coming on the former.
Sandwiched in between Russian tallies, Andrei Vasilevski went full-blown Chuck Norris on Sweden's Elias Lindholm, leaving every male audience member simultaneously wondering how he managed that split and averting their eyes in pain.
At any rate, De La Rose felt the need to crash everyone's buzz, deflecting a Gustav Olofsson shot from the point past Vasilevski for the game-sealing goal. His score, coming with 2:22 left in the final frame, all but buried Russia, dooming them to a loss.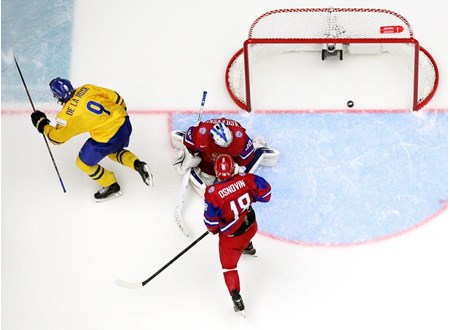 As a whole, Russia's scoring was contained to a handful of players, with more posting a negative plus-minus than contributing to the scoresheet. The power play, however, continues to churn at an alarmingly good clip of 47.06%, with their second ranked penalty kill turning in an 81.25% mark. Despite losing two consecutive games, the Russians continue to post encouraging numbers, maintaining their lead in scoring efficiency and trailing the tournament leading platoon of U.S. goalies by .24 points in save percentage (these numbers are undoubtedly weighed down by Ivan Nalimov's less that ideal performance against Finland). Russia, placing third in group play, earns a less-than-favorable (but no less enticing) date with team USA in the quarterfinals; Sweden manages a sweeter match with Slovakia. Both teams will be in action on January 2nd.