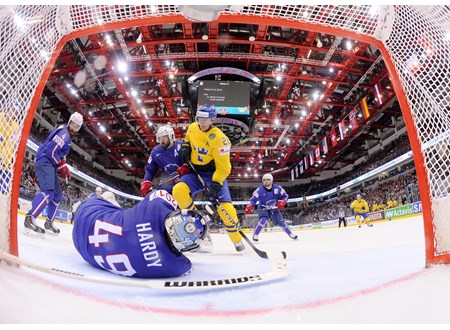 There were just 10 seconds remaining in the third period. Sweden was holding a 2-1 lead needing only to keep the puck out of its own zone to secure a win after a neutral zone faceoff.
The puck was tied up off the draw, but quickly squirted toward the Swedish net where French forwards Damien Fleury, Antoine Roussel and Stephane Da Costa each had his own scoring chance turned away. And in the span of 10 seconds a game that looked like it was wrapped up was within a few inches of getting tied up and going to overtime.
The dying second were indicative of the game as a whole as the win didn't come easily to Sweden. Team France – as it has done all throughout this World Championship – proved to be a tough test in the beginning as neither team scored in the first period, but were tied 9-9 in shots.
Goals were just as difficult to come by in the second period, as well. The only goals scored came from Joel Lundqvist and Oscar Moller in a 17-second span, which gave the Swedes a 2-0 lead in a split second. The defense did its part as well, only allowing three shots in the period.
But the French showed very quickly in the third period they wouldn't quit. A Stephane Da Costa goal – his third of the tournament – less than five minutes into the period set the stage for an interesting finale. Fortunately for the Swedes they would, as mentioned, escape a late surge from France to come away with their fourth win (third in regulation).
But the win shouldn't bring with it complacency because there are issues that need to be worked out. Their starts haven't been great, but thanks to some timely scoring they haven't felt the burden of it. They also haven't been a very high scoring team, which doesn't seem like much of a problem right now because of their goaltending, but could pose a problem later on.
The good news for Sweden is it has three more games remaining to iron out the kinks: facing Canada, Slovakia and Italy. The middle game, against Canada, will be the biggest and most important test of their skills. Slovakia and Italy are quite the opposite as they sit sixth and eighth respectively in Group A as of May 15, and will be more forgiving should Sweden make too many mistakes.